Variety's the Spice of Life
Variety's the Spice of Life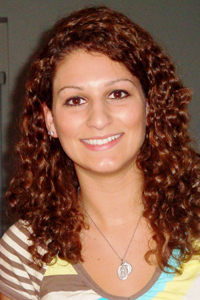 "I never would have imagined that I would end up at Saint Mary's," says Samantha Goudreau '10. Though she may have surprised herself by choosing Saint Mary's, in the four years she has spent at the College, the senior, originally from Fox Lake, Ill., has certainly taken advantage of everything the College has to offer.
An accounting major with a concentration in finance, as well as a math minor, Saint Mary's has given Samantha the opportunity to do it all – in both academics as well as in extracurricular activities. "I am the president of Lady Accountants of Tomorrow and the vice president of Young Executive's Club," she says. She also shares her leadership skills with the Saint Mary's Admissions Office, acting as a Student Ambassador. "I establish positive relationships with prospective students by giving tours of campus, providing relevant information about student life at Saint Mary's, answering any questions, and addressing concerns from both students and their parents," Samantha says of her position.
Samantha also had the opportunity to participate in a study abroad program. "Second semester sophomore year, I studied abroad in Rome for four months," she recalls. "It was an amazing experience. I learned a lot about myself while studying abroad, and I really grew as a person." Samantha gives much credit to Saint Mary's for preparing her for this one-of-a-kind experience. "My first year and a half at Saint Mary's helped me to become a more independent person. It is important to have confidence in yourself in order to be on your own in a foreign country. The supportive atmosphere at Saint Mary's really helps prepare you for that experience," she says.
Last, but certainly not least, Samantha places a huge emphasis on Saint Mary's athletics as a part of her college experience. "A big part of my life at Saint Mary's has been spent training for soccer," she says. "The girls on the soccer team are like my family, and I am certainly going to miss the soccer girls more than anything I have experienced here at Saint Mary's in the last four years. We live together, eat together, sleep together, work together, study together, and support each other at all costs. It truly is an honor to have been part of something so special."
Although it is still early in the school year, Samantha already has her post-graduation plans in order. "I have accepted a position as a first year staff member in the Risk Consulting practice of Crowe Horwath, LLP, out of their Oakbrook, Ill. Office." Of her future plans, Samantha says, "I am very excited to put the technical, professional, and social skills that I have gained while at Saint Mary's to use in the real world next fall. Saint Mary's has helped me gain the confidence that I need to succeed in the business world, especially in the traditionally male-dominated accounting profession."
Despite her excitement, Samantha knows she will miss the atmosphere of Saint Mary's. "Saint Mary's is an inherently unique place to be," she says, "and I wouldn't trade the experience I have had for anything."
—Mary Elizabeth Ulliman '10