Visitation's Eleven
Visitation's Eleven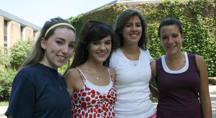 Every year, a few lucky high school friends share the excitement of going to college together. This fall, one suburban Minneapolis high school sent 11 of its 80 graduates to Saint Mary's. The young women began their college careers this week.
Their alma mater, Convent of the Visitation School, has much in common with Saint Mary's—both are small, Catholic, academically challenging schools for women. While the similarities are clear, the Visitation students express unique reasons for choosing Saint Mary's.
Greta Chapman wanted a college where faith is a part of student life and academics are strong. A few friends questioned her desire to stay in a single-sex environment, but she believes in the benefits: "If I loved it so much the first time, why wouldn't I do it again? I think there's something really empowering about being at an all-women's school," she says. Greta is thinking about a major in English writing or theatre.
Hannah Snyder chose Saint Mary's partly for its beautiful campus and close ties to the University of Notre Dame, but mostly for the social work program. "When I visited here, I was able to sit in on a class that Dr. K. [social work professor and chair Fran Kominkiewicz] was teaching," says Hannah. "After it was over, she sat down and talked to my mom and me for about 20 minutes, so personally. That's what really sold me."
Bridget LeFevour was drawn to the College's science programs, particularly biology and nursing. Her goal for the next four years is to explore and enjoy all the options available to her. "I really hope that I can put myself out there and fully take advantage of the opportunities at Saint Mary's, Notre Dame, and Holy Cross. And I really want to study abroad," she says.
Emily Pavlick was active in service groups during high school and hopes to stay involved in college, too. Like other Visitation students, she has family ties to Saint Mary's—her cousin, Kate Fenlon, is a senior at the College. Emily is thinking about a communication studies major and states a clear goal for the next four years: "having a career at the end and having a job."
All 11 Visitation students are living with new roommates, scattered in different residence halls around campus. "We did that on purpose," says Greta. "We're still close, but we'll meet each other's new friends, too. It makes the network bigger."