Wedding Belle
Wedding Belle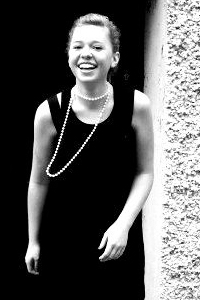 Last year when senior Kelsey Knoedler stumbled across a copy of Michiana Brides magazine, she could have never foreseen the great experiences it would lead to. After being drawn to the magazine, Kelsey, an English writing major, looked at their Web site and decided to send them an e-mail inquiring about internships. When they responded she quickly sent her resume and writing samples. After an interview she was offered an internship for school credit.
Michiana Brides is a South Bend Tribune publication that comes out twice a year, in the fall and spring. With only two issues, the magazine employs a small staff, which gave Kelsey more opportunities to shine. She was given an assignment on her first day at the magazine.
"I know of lots of girls who end up at internships with bigger companies or magazines who end up getting coffee or filing, but I'm treated like a normal staffer at the Tribune," Kelsey says.
The October issue was recently released and features four articles by Kelsey. She also authors her own blog for brides entitled, "Something Blogged, Something Blue" on the Michiana Brides Web site: Michianabrides.com.
"I've seen working in weddings already that people are so happy and willing to talk to you because weddings are such a happy time," Kelsey says. "I leave my interviews feeling so happy myself."
When it comes to making the bridal industry a career, Kelsey is not ruling it out."I love my internship with Michiana Brides, and I'd love to do more writing for wedding or other magazines," Kelsey says. "But I think there are a lot of jobs out there that I'd be great at and that I would enjoy. One of the greatest things about being a writer is that no matter what job I have, each experience will give me more to write about."
Kelsey's magazine writing experience translates well to her extracurricular activities at the College. She is the Editor in Chief of  Bellezine, which is the Saint Mary's on-campus, student-produced magazine.
Kelsey is extremely grateful for her Saint Mary's education and says that her favorite part of Saint Mary's is the feeling of community with both the students and professors.
"I love being able to work closely with professors and getting to know the other women in my classes," Kelsey says. "And I love living, learning, and working in a community of women who are smart, hard working and all around beautiful people."
—Nikki Taylor '11