Who Needs Directions?
Who Needs Directions?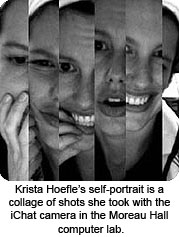 "I love gadgets and gizmos, but I hate directions," says Krista Hoefle, an associate professor of art at Saint Mary's College. This odium led the young and spunky Hoefle to find her own way of doing things through experimentation. "When I'm teaching a particular technical process, I'll show students the 'proper' way, but if that way isn't working out for them, we'll adapt, experiment, and uncover a new and inventive way of working," she says.
Hoefle holds a BFA from Savannah College of Art and Design and an MFA from Pennsylvania State University. In addition to running the Moreau Art Galleries on campus, Hoefle teaches courses in sculpture, design, and special topics in new media, video, and theory/criticism. Her installations, animations, works on paper, and videos have appeared in national and international venues. This summer, she'll teach "Alternative Mapmaking and Psychogeography" with the College's European Summer Study Program. "I am approaching travel as the artist does…any everyday experience has the potential to become an art piece," she says.
At Saint Mary's, Hoefle has been able to develop innovative courses with enthusiastic support from faculty, administration, and staff. Hoefle is currently teaching a special topics course that is particularly close to her heart. Entitled "Cyberfeminism_Creativity_ Connectivity," it analyzes films like The Matrix and sci-fi works by Octavia Butler as part of the course content. The students in a previous course on installation, video and the Web actually gave her the initial idea. "We had a lot of discussions that related to gender issues, and cyberfeminism came up several times," says Hoefle, who has created a website for the course at www.cybcreateconnect.com.
In terms of her own creative work, Hoefle likes to "mash" things up. She works in an interdisciplinary way, combining materials, processes, and ideas. "My own work completely carries over to how I approach all the studio art courses I teach," she says. Hoefle's 3-D design course, for example, began the semester with a project combining mold making, photography, video, and installations.
"Teaching at Saint Mary's has been a great experience thus far," she says. "I don't know that another collegiate environment could have provided me with such opportunities."
–Amanda Goetz '08