Wholehearted - Brianne Suckow '12
Wholehearted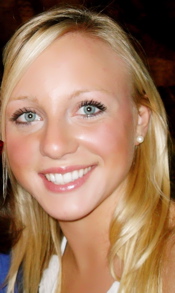 Brianne Suckow '12 isn't interested in superficial experiences. So far her college career has been one immersion after another in the things that ignite her interest. The psychology major from Granger, Ind., is a people person and she chose her course of study based on her fascination with human behavior. She's eager to find out why people do what they do and decided to explore that inside and outside of the classroom.
The psychology program at Saint Mary's includes lab work and group projects and discussions, among other learning experiences. And outside of the classroom buildings, Brianne's activities are also people-oriented.  
This year she is the Women's Health Commissioner for the College's Student Government Association (SGA). In this position, she initiated and coordinated a breast cancer awareness fashion show, the proceeds of which were donated to breast cancer research. In addition, she worked closely with her friend and fellow SGA member, Laura Glaub '12, in organizing the first ever Love Your Body Week at Saint Mary's. Last summer, she interned in special events at the College Football Hall of Fame.
Brianne takes these leadership positions not just to learn, but to make a positive difference in the lives of others. "Saint Mary's emphasizes a sense of community and how each person can make a difference," she says.
When Brianne makes a decision to experience something new, she involves her whole self.  Aside from her volunteer pursuits, she studied abroad in 2009 in the College's Rome program. "I had visited Rome for a week in high school and it was a completely different experience than living there for three months," she says.  "I learned that visiting Rome for only a week is a very superficial experience and was amazed at all that I experienced while immersing myself in the culture for three months."
It was an opportunity for Brianne to totally immerse herself in another culture "on a daily level." From living with other students at the Hotel Tiziano to discussing the history, architecture, and politics of Rome in the place where it all happens, Brianne experienced Rome as a local.
Next year, Brianne will take all she's learned with her to graduate school, where she'll continue studying psychology. "Ultimately, I would like to be in a position that allows me to continue learning and to interact with people every day."