Win-Win
Win-Win
Follow your passions. Keep exploring. Make connections. Ryan Dombkowski gives this advice to his students and he has followed it in his own career—both as an assistant professor of biology and swimming coach at Saint Mary's.
Six years ago, he discovered his passion for teaching as a medical student at Indiana University School of Medicine, when a rewarding part-time tutoring job led him to decide that he'd rather have a PhD than an MD. He left the top of his medical school class to pursue a doctorate in biology at the University of Notre Dame. A specialist in human anatomy and physiology, he joined the Saint Mary's faculty in 2005.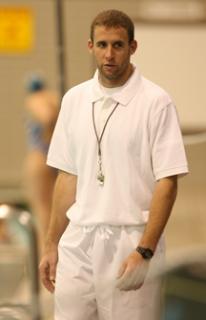 A year later, when the Saint Mary's swim team needed a coach, Dombkowski was willing to explore that possibility, too. A competitive swimmer, coach, and official for 20 years, he was more than qualified for the job. He also had an excellent volunteer to assist him that first season: his wife, Alicia Lesneskie Dombkowski, a 2002 Saint Mary's alumna and swimmer.
Dombkowski says his dual role as teacher and coach helps him make meaningful connections. "When you're a professor, you can build tight bonds and good mentoring relationships, especially when you do research with students, but it's very different from coaching. Coaching, to an extent, is much more personal. I've enjoyed getting to know students to a greater degree than I could in the classroom."
In other ways, Dombkowski is a good match for Saint Mary's. He earned his BA at Wabash College—one of only three men's colleges in the nation—and believes that single-sex schools build academic confidence. This is especially important for the biology and nursing majors who take his courses, he says: "You get voices in the classroom that you wouldn't get in a co-ed environment."
"I hope all my students know that I never close my door," adds Dombkowski. "I'm here for research, teaching, advice, and whatever they need." He is delighted that one set of shelves in his office is stocked with biology lab supplies, while the other holds equipment for the swim team. "I think it's a win-win for everybody that I coach and teach. I'm passionate about it. And in many ways, coaching is very much like teaching. Both use motivation and instruction."