Winning Spirit
Winning Spirit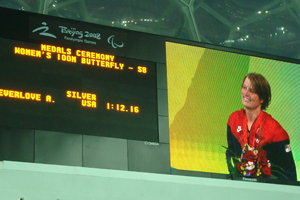 Amanda Everlove started her first year at Saint Mary's with a major feat to her credit—appearing in the 2008 Paralympics in Beijing, China. Everlove won three silver medals and set a world record in swimming. Prior to that she participated in the ParaPanAmerican Games in Rio de Janeiro, in 2007, winning one gold and four silver medals. She hopes to bookend her college career with another successful appearance at the next Paralympics. "I'm currently on the national team and hope to make the team that the United States is taking to London in 2012," says Everlove.
The chemistry major says she wanted to attend a small school where she could explore engineering, as well as swim and compete. "Saint Mary's gave me that and more."
Everlove suffered an injury from a horseback riding accident that left her right arm paralyzed. Today she competes on the Saint Mary's Swimming and Diving team, and as a member of the U.S. team competing at the Paralympic Games. Everlove explains the Games as, "...sport events for elite athletes with a physical disability. They are designed to emphasize the participants' athletic achievements, not their disability. The Paralympic Games take place in the same year as the Olympic Games, and use the same venues."
Everlove lived in Colorado Springs last year, training for the Paralypics. "Living there among the Olympians and Paralympians was one of the best experiences of my life," says Everlove.
With a focus on balancing swimming with schoolwork, Everlove looks to a future that could incorporate chemistry with her athletic background. Not wanting to limit herself, Everlove says, "Currently I'm interested in the drug testing process, especially drug testing athletes."
Regardless of what she chooses to do, she'll be prepared with her Saint Mary's education. "I picked Saint Mary's because I thought they would best be able to help me pursue my goals. Saint Mary's has an amazing chemistry department, and I'm very excited to learn from them."