Wise Counsel
Wise Counsel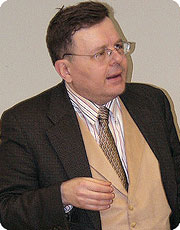 The Three Stooges—Larry, Curly, and Moe—are unlikely mentors for students at a Catholic women's college. But there they are, on a poster above Professor Sean Savage's desk, dressed in graduation caps and gowns. The caption on the poster asks the question that Savage, a political science professor and pre-law advisor at Saint Mary's, hears from seniors every spring.
What do we do now?
For lots of reasons, Savage is the right person to approach for advice. An expert on American politics, he's written three highly regarded books on presidential politics and party leadership. His latest effort, JFK, LBJ, and The Democratic Party, won a Choice Award for outstanding academic titles in 2005.
Savage says his scholarship enhances his teaching. "I can bring things that I've done with my research into the classroom. And when I advise students on their course papers or senior thesis, I can empathize with them about writer's block and deadlines."
As faculty advisor for the Washington Semester Program, Savage encourages political science majors to explore possible careers in the nation's capital. Participants network with public officials, political figures, and lobbyists; they also learn through classes, research, and internships. "A lot of our students who want to work in Washington after graduation get paying jobs there, largely due to contacts they've made through the program," he says. "We've got this growing colony of Saint Mary's alumnae in DC."
For students wondering if law school is the right choice, Savage provides wise counsel. Don't treat college like a mini-law school, he says—take a few courses in law or politics to see if you like those subjects, but explore other areas, too. "I tell them, chances are you'll probably change your mind lots of times about what you want to do, and that's a good thing."
Saint Mary's graduates have attended law school at prestigious institutions—including Harvard, Columbia, Northwestern, Michigan, Notre Dame, Loyola, and many more. Several have returned to campus to share their experiences at "power lunches" that Savage helps organize. He says that's the best way for current students to find out what awaits them after college.
"They're more likely to listen to a Saint Mary's alumna than to me," he says. And besides, successful alumnae make better role models than the Stooges.