Working for Others
Working for Others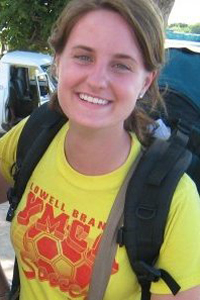 "There's such an opportunity to get involved in different projects here and to take on leadership roles that might not be available at other schools," says social work major Kate Doornbos '10 about Saint Mary's College. The native of Michigan is a member of the Social Work club, and Straight and Gay Alliance (SAGA). She was on the review board for the SMC Monologues and she is a trained rape crisis advocate at SOS Rape Crisis Center. She is also an intern at the Saint Joseph County Bridges Out of Poverty Initiative.
"What does an outstanding social worker-in-the-making look like? She looks like Kate Doornbos," says Bonnie Bazata Executive Director of St. Joseph County Bridges Out of Poverty Initiative. "Kate has written a grant, assisted clients, organized events, conducted research on everything from poverty to the best donor software, set up our Facebook site, and helped us move into and paint our new office. She is tireless, cheerful, and brilliant. I feel honored to have her hard work, bright mind and positive energy—and to know that I'm helping shape a future leader in the field."
Kate has been active in other areas, participating in the University of Notre Dame's Urban Plunge seminar in the Fall of 2007. She studied abroad in Pietermaritzburg, South Africa in the Spring of 2008. "I got to travel around most of Southern Africa, and to volunteer, and take classes in community development that I wouldn't be able to take here," describes Kate.
On campus, Kate says that her favorite class was Introduction to Social Work with Dr. JoAnn Burke. "We had the chance to go out and take trips to local organizations and to listen to speakers who came into class," describes Kate. "It was the course that helped me choose my major and helped to engage me with the Greater South Bend community."
Kate plans to attend graduate school for social work. In the meantime, she looks forward to her social work field practicum course where she'll be placed in the Community Action Agency through Resources for Enriching Adult Living (REAL) services, servicing a number of local counties. This opportunity became available through the efforts of Professor Burke, who is acting as her field liaison. "She's helped me to realize all the awesome things you can do with a social work degree, in a macro sense, like working with communities, organizations, policies, etc. She's just been a great mentor and encourager," says Kate.