Working for the Dream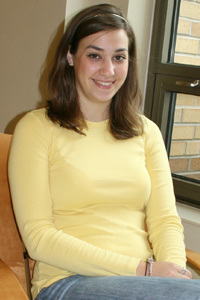 Annie Sofranko '11 is making the most of her Saint Mary's experience. The Columbus, Ohio, native is involved in a range of activities all over campus.
When not in class working on her communication studies major and her two minors in business and Italian, Annie co-chairs the fundraising committee for Dance Marathon, a student organization which raises money for Riley Hospital for Children in Indianapolis. She is also involved in Invisible Children, Holy Cross Hall Council, and the Italian Club.
Annie took advantage of the Saint Mary's Rome Program, spending the fall of her sophomore year in the eternal city. "[Rome] really made me come to know who I am today," Annie said. "I made some really good life long friends. Being in a foreign country really made me appreciate all different types of cultures."
With her Saint Mary's education Annie would like to combine her passions into her dream job—working for an advertising agency in Italy.
"The classes here really prepare you for the real world and my Italian skills are definitely more proficient now than they were before I came to Saint Mary's," says Annie. "Saint Mary's also teaches girls how to be independent and confident women."
Annie is thrilled that she has the opportunity to attend Saint Mary's and be so involved. And knows that she is a valuable part of the community. "I'm glad that the college is helping me get the best education I can. They really want me here and are willing to go the extra mile for me."
—Nikki Taylor '11