Writing Through It
Writing Through It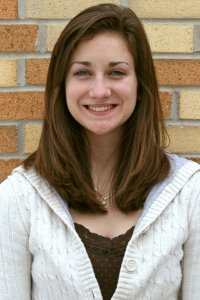 Junior Sarah Sheppard, makes the most of her time at Saint Mary's College. A native of Grosse Pointe, Mich., Sarah decided on Saint Mary's when she was fourteen and hasn't regretted it since. She says, "I loved every part of it, and when I visited, I knew it was perfect for me." Now, a declared English writing and English literature major, Sarah finds herself writing more and more.
Sarah has made the most of her college experience and hopes to do more. She is a member and choreographer for the Dance Company of Notre Dame and DanceFest. However, Sarah likes to spend most of her time writing. She was published in the Saint Mary's Courier and Chimes in 2009 and recently joined Mustard (the Notre Dame Creative Writing Club) and the Chimes Editorial Board.
Sarah has worked as an intern at Ave Maria Press in the marketing department, but is still unsure where her future lies. She hopes to pursue a career in publishing and eventually become a fiction writer, but is leaving her options open. She says, "I would love to be an editor and write on the side, but if that doesn't work out, I'll go to law school or maybe graduate school to get an MFA in Creative Writing."
Saint Mary's has made a lasting impression on Sarah. She says, "I wouldn't be who I am today had I chosen a different school. The professors have broadened my knowledge and creativity, and inspired me to be a better writer."
Her favorite classes have been Fiction Writing with Frances Hwang and Creative Writing with Max Westler. With another year at Saint Mary's, Sarah looks forward to the challenges and opportunities to come, including the Senior Writing Project.