You Can Go Home Again
You Can Go Home Again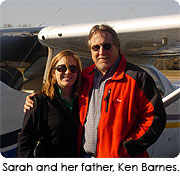 Sarah Barnes is a woman who focuses on what she wants and goes after it. When it was time to pick a college, she applied to one—Saint Mary's—and made an early decision to enroll. "I always knew I would come to Saint Mary's," says the sophomore from Bedford, Indiana, who attended summer soccer camps at the College as a middle schooler. "It felt like home to me."
During freshman year, Sarah spent time across the street at the University of Notre Dame, like many Saint Mary's students. Football games and social gatherings were what drew her at first, but she also wondered if attending the larger institution might position her better for the future. "I thought that it would open a lot of doors for me if I graduated from there, and just having that on a piece of paper would be really beneficial."
When Notre Dame accepted Sarah as a transfer student last fall, she decided to make a move. After a few weeks of classes, though, she began to regret the decision. She missed her friends, but more importantly, she realized how much she valued the personal relationships she had developed with her professors at Saint Mary's. "The thing that I missed was that they thought I was really a valuable person, that I had something to offer," says Sarah. "To them, I wasn't just another student, and I attribute that to the size of the school."
After a semester, Sarah transferred back to Saint Mary's. She's chosen a communications major and is thinking about studying abroad on the College's Rome program. She has friends on both sides of the street now, and a renewed appreciation for Saint Mary's all-women's environment. "It's a lot more comfortable and open," she says. She has a point—research shows that students at women's colleges participate more fully in and out of the classroom.
Sarah's dad, Ken Barnes, is happy about where she landed. "She did well at Notre Dame academically—she's a dedicated student," says Ken. "But I was always impressed with the caliber of women at Saint Mary's, and hoped that someday Sarah would be one of them."
Sarah agrees. "Now that I'm back, I don't want to leave again." And watch out, world, she is starting to focus on her next goals: studying education policy, graduating with highest honors, and going to law school.