Alexander Bobbs
Faculty Profiles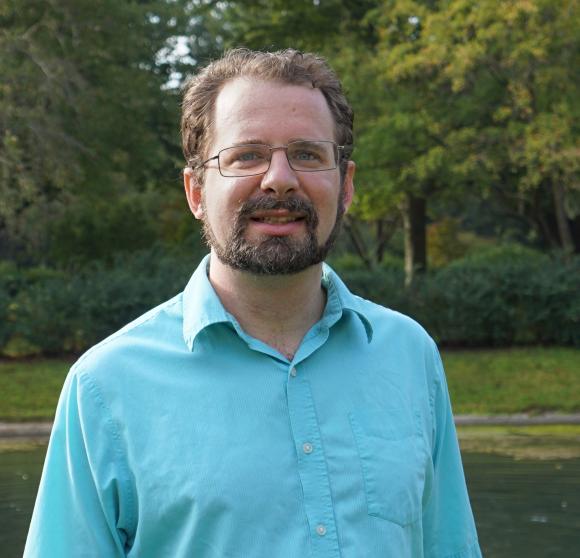 Alexander Bobbs
Phone
Email
Alexander Bobbs received his bachelor's degree in biology from Harvey Mudd College ('03), and his PhD in molecular and cellular biology from the University of Arizona ('12). Before coming to Saint Mary's College, Bobbs spent several years studying ovarian cancer at Harper Cancer Research Institute. He has also taught anatomy and physiology, microbiology, and general biology at Ivy Tech and Lake Michigan College. He currently lives in Mishawaka with his wife Kathryn and their three cats: Zazzles, Shadow, and Flux.
Education
PhD, University of Arizona
BS, Harvey Mudd College
Areas of Expertise
Human Physiology
Molecular Biology
Developmental Biology
Research Interests
Ovarian and Colon Cancer
Bioinformatics and Statistics
Gene Expression
 
Courses Recently Taught
BIO 214 - Human Physiology and Lab
BIO 224- Introduction to Pathophysiology
Creative and Scholarly Work
Scholarly Work
Roy, L., Bobbs, A.S., Sattler, R., Kurkewich, J.L., Dausinas, P.B., Nallathamby, P., Cowden Dahl, K.D. 2018. CD133 Promotes Adhesion to the Ovarian Cancer Metastatic Niche. Cancer Growth Metastasis. 11: 1179064418767882
Scholarly Work
Bobbs, A.S., Cole, J.M., Cowden Dahl, K.D. 2015. Emerging and Evolving Ovarian Cancer Animal Models. Cancer Growth Metastasis. 8: 29.
Scholarly Work
Bobbs, A.S., Gellerman, K., Hallas, W.M., Joseph, S., Yang, C., Kurkewich, J., Cowden Dahl, K.D. 2015. ARID3B Directly Regulates Ovarian Cancer Promoting Genes. PLoS One. 10(6): e0131961.
Scholarly Work
Bobbs. A.S., Saarela, A. Yatskieych, T.A., Antin, P.B. 2012. FGF signaling negatively regulates the abundance of microRNAs that target molecules required for cell migration and embryo patterning during gastrulation. Journal of Biological Chemistry. 287: 38505.
Scholarly Work
Hardy, K.M., Yatskievych, T.A., Konieczka, J., Bobbs, A.S., Antin, P.B. 2011. FGF signaling through RAS/MAPK and PI3K pathways regulates cell movement and gene expression in the chicken primitive streak without affecting E-cadherin. BMC Developmental Biology. 11: 20.
Scholarly Work
Zell, J.A., Ziogas, A., Ignatenko, N., Honda, J., Qu, N., Bobbs, A.S., Neuhausen, S.L., Gerner, E.W., Anton-Culver, H. 2009. Associations of a polymorphism in the ornithine decarboxylase gene with colorectal cancer survival. Clinical Cancer Research. 15: 6208.