"It is the women that make Saint Mary's" ~Alex Kane '14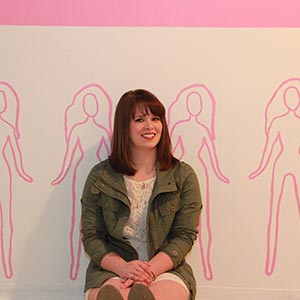 Alex's "They Are Not You" piece is a performance for the
audience and artist. Outlines of Barbie parallel a mirror,
which acts as an image to include the audience in the piece.
"I attended an all girls' school since eighth grade and I didn't even want to consider an all women's college," says Alex Kane '14. But after taking a campus tour, Saint Mary's "gave me that 'warm and fuzzy' feeling. That feeling you get when you know you're home; where you belong," Alex explains. Her choice is about more than gender, more than an education. An academically excellent women's college, Saint Mary's certainly meets those criteria. But college is also about "the sense of belonging and closeness of the community here. Saint Mary's does not make the women who attend here; it is the women that make Saint Mary's."
A passion for art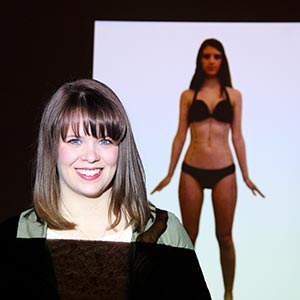 One in a repeating video slideshow in Alex's senior comp,
this photo illustrates the "unrealistic and false image of
what determines a woman's femininity through her appearance."
A studio art major with a concentration in new media, Alex utilizes her skills and love of art on campus and in her internships. She's the marketing co-chair for the Student Government Association (SGA), creating flyers and t-shirts for various events, plus social media duties. As an SGA member, Alex also earned her Green Dot through the Belles Against Violence Office (BAVO). Green Dot is a training program that teaches students how to promote a safer environment for everyone and is yet another way the Saint Mary's community cares for its members. "There is sort of a sisterhood atmosphere at Saint Mary's, that no matter who you are or where you came from, your peers, your professors, and administrators genuinely care about you," Alex says. For her senior comprehensive project, Insulted by Femininity, she created "a series of performing arts pieces, which analyzes the concept of femininity through the perception of appearance and gender roles," she says.
Education is a foundation
Her Saint Mary's education prepared her well, Alex says. She learned critical thinking skills and an understanding of various academic subjects thanks to Saint Mary's liberal arts curriculum. She enjoyed a uniquely supportive environment that is a women's college. For Alex, college has been an experience. "It is knowing yourself and developing your own point of view. There is value to a women's perspective on personal and professional development," she says. "Saint Mary's truly prepares you to discover yourself and your place in this world."
Career preparation
After two summers interning as a marketing intern at AIG, an insurance corporation in New York City, assisting with various department projects, AIG offered Alex a job as an underwriter in New Jersey, where she'll utilize her art history courses and appraise collectors' artwork for insurability.