Anabel found her home in Ireland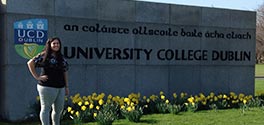 Anabel Castaneda '12
"I am not exactly 100 percent sure what it is about Ireland that just feels right," says Anabel Castañeda '12. A political science and communication studies double major, spent the fall semester of her sophomore year studying abroad in Ireland. She interned with the State Department at the US Embassy in Dublin. She's since returned to Ireland for her two secondary degrees. There's something about Ireland, all right, even if Anabel isn't quite sure what it is.
Location, location, location
Anabel chose to study in Ireland because of the great experience she had during her internship with the US Embassy. During her internship, she rotated between three departments, the Public Affairs Office, Political and Economic Office, and Consular. She helped organize the Fourth of July celebrations in Dublin and Galway, working with the ambassador and others.
Plus, the location is great. "I love the fact that you can get to the other side of the country in little more than two hours. This makes traveling and seeing new places very easy and accessible. I also love the friendliness of all the people. Everyone is just so helpful and cheerful," she says.
Anabel earned a master's in international relations from the University of Edinburgh and received a full scholarship to the University College of Dublin to earn her masters in media and international conflict. Her liberal arts education from Saint Mary's provided her the skills and opportunity she needed to succeed at the graduate level. "Saint Mary's prepared me very well. I believe the values of hard work and leadership have made me an efficient student," she says.
Cultural education began at Saint Mary's
While at Saint Mary's, Anabel was active in the Center for Women's Intercultural Leadership certificate program; the Middle Eastern and North Africa Club, Al-Zahra; political science club; philosophy club; Student Diversity Board; and Student Government Association. "Diversity is important to me because America is a melting pot. Both my parents immigrated to America from Mexico and so growing up with a rich heritage truly has helped to develop my passion for promoting a positive community," says Anabel.
Between her club activities, the certificate program, and her study abroad experience, Anabel deepened her appreciation of diversity at Saint Mary's and carried that with her to Ireland.