Small campus, big opportunities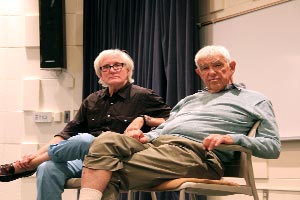 When I heard Bill Persky and Tom Leopold were visiting Saint Mary's, I forgot all about the stresses of being a senior. These men are everything I aspire to be: successful writers who also make people laugh.
Persky is a five-time Emmy-winning writer, director, and producer behind television shows like The Dick Van Dyke Show, The Cosby Show, That Girl, and Who's the Boss. His good friend, Leopold, has been in the business for nearly forty years. He has written for shows such as Cheers, The Chevy Chase Show, Seinfeld, and Will & Grace.
The two days Persky and Leopold were here were some of my favorite days at Saint Mary's. During their visit, I ate lunch with them, where they offered advice and told anecdotes about their incredible careers.
But my favorite experience was the private master class, where some of the English students were instructed to show up with an idea for a sitcom.
I was nervous to propose my idea for a sitcom. How was I, a college senior with no experience writing sitcoms or working in Hollywood, qualified to pitch an idea to two proven comedy veterans?
However, Persky and Leopold were encouraging to all of our ideas. And, they loved my idea! They seemed to fall in love with my pitch – which was about a small town newspaper. They asked me to draft a script and email it to them so they could provide feedback. My professor, Max Westler, allowed me to switch my senior comprehensive project to continue writing this script. Senior comps are required projects that all students from all majors must complete in order to graduate.
Though I was terrified, I said yes. The thought of switching comps six months in and finishing writing, revising, rewriting in time for the December due date panicked me.
At the beginning, I was confused, frustrated, and discouraged. But slowly, everything seemed to fall into place thanks to Max's advice, suggestions, and encouragement.
Several months after starting and completing my new comp, I submitted it for feedback to Persky and Leopold. Within a few days, I spoke with Persky, whose feedback made me feel like I was sitting at the writer's table for one of his sitcoms.
I was thrilled when he informed me I had done fantastic job. He offered me advice on how to improve my plot and develop one of the characters more fully. At the end of our phone call, he said he'd be happy to read further drafts and continue providing feedback and assistance.
When I hung up, I was ecstatic. I had just received compliments and feedback on my writing from one of Hollywood's funniest and most successful writers. Never in a million years did I think I would have access to that kind of experience at a small liberal arts college in Indiana. Yet, now I have it.
~Bridget Feeney, writing intern, Integrated Marketing Communications