Nursing students gain experience abroad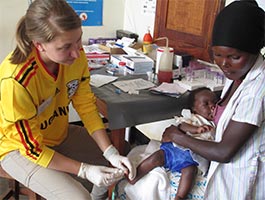 Carolyn Backes '14
"In high school, I became very ill and was in and out of hospitals. The nurses were the people that I always could turn to when I had questions or needed someone to talk to. After I got better, I realized I wanted to be that person for people," says Carolyn Backes '14.
Attending a small college with a supportive community atmosphere such as Saint Mary's, the nursing major says, has allowed her to become confident and successful in her chosen field of study. Fellow nursing major Aubrey Hodges '14 remarks that the clinical work she has performed at local South Bend hospitals has given her the opportunity to actually put her passions and lessons from the classroom into practice.
Adventuring to Uganda
During the summer of 2013, Aubrey and Carolyn got the opportunity to advance their skills outside of the familiar surroundings and routines of campus and Indiana hospitals when they traveled to Uganda for an eight-week summer practicum through the Center for Women's Intercultural Leadership. Along with two other Saint Mary's students, Aubrey and Carolyn lived and worked with the Sisters of the Holy Cross and immersed themselves in Kyarusozi, Uganda, a tiny village outside of Fort Portal.
The Sisters of the Holy Cross first experienced the diverse culture of Uganda in 1967 when they established community life there. In 2009, Saint Mary's College launched the summer practicum program for nursing and education students to offer their assistance at the local Kyembogo Health Center and Moreau Primary School.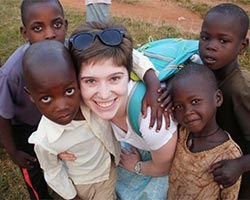 Audrey Hodges '14
Aubrey was excited to go to Africa and knew that her time abroad would have an impact on her future plans. "Before the trip to Africa, I had this great desire to provide nursing care around the globe in areas with the greatest need, and I knew that this experience would either satiate that desire or fuel it," she says.
Adjusting to the unfamiliar
When the girls started working at the local clinic in Kyembogo, they realized that the ways of communicating and working with patients in Africa are very different from what they do as nursing students in the States. Aubrey and Carolyn were able to act more independently and had greater responsibility as nurses in Uganda. "In the clinic, I was able to do things that were unheard of for a nurse in the U.S., as I diagnosed illnesses, prescribed medications, drew blood, and administered treatments" Aubrey says.
For the students, living in Uganda was an interesting mix of experiencing a new culture and recognizing the similarities and differences with their own backgrounds. "Obviously the culture, the people, and the environment are very different from our own, yet I felt a sense of home and togetherness living and working with the Sisters of the Holy Cross and my Saint Mary's sisters," says Aubrey. No matter what environment they were in during their practicum, there was always someone around if they needed help in times of homesickness, frustration, or just wanting to talk.
Opening doors to the future
Carolyn gained confidence in her nursing skills while in Uganda, and the trip made her realize that she wants to further her education and get her doctor of nursing practice. She feels that Uganda was a great educational experience and gave her opportunities she would not have gotten elsewhere. "Being gracious and appreciative of everything despite your lot in life is one lesson that every person in Uganda taught me. Whether I was passing out baby clothes, providing healthcare, or even just saying 'Hi,' the joy I saw on these people's faces was indescribable." With her summer practicum experience, Carolyn is fulfilling her dream of becoming just like those influential nurses from her youth.
~ Katherine Kautz '14