Invest in Yourself: Cassie Jerkovic '13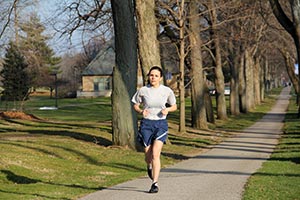 Cassie running along The Avenue.
After four years in the Air Force Reserve Officers' Training Corps (ROTC), Cassandra "Cassie" Jerkovic '13 worked her way to the highest position in her detachment: wing commander. The first Saint Mary's student to achieve such an honor and only the third woman in the detachment's history, Cassie is putting to use the skills she learned in the ROTC and at Saint Mary's.
Leadership is a valuable skill in many aspects of the business world, but none more so than the military. Cassie's promotion to wing commander places her in charge of the entire cadet-run program. Her job is to determine which cadets will perform each position in the detachment. Cassie chose a support staff, called a Wing Staff, of four other cadets who she works with and delegates tasks. The entire detachment consists of about 80 cadets from seven area colleges and universities, all of whom fall under Cassie's command. That type of leadership experience is a testament to her capability and to the ROTC superior officers' faith in her abilities.
Saint Mary's is the first step
Cassie intends to make the military her career and wanted to major in chemistry, so she met with an associate professor of chemistry and the captain of the ROTC detachment at the University of Notre Dame. She knew then that Saint Mary's was the right choice. "I wanted something close, with small class sizes. After my interviews with Professor Dunlap and the ROTC captain, I just knew. Plus, I always wanted to go to a private school," says Cassie. She chose Saint Mary's for the college experience and she's glad she didn't go anywhere else. "I believe that things happen for a reason, and I'm really glad it happened the way it did," Cassie says.
The Saint Mary's advantage
While many colleges across the country have ROTC programs, Cassie feels that her education and experience at Saint Mary's really prepared her for her leadership role in the AFROTC. "Saint Mary's taught me time management, how to work ahead, to revise, how to be a better person. It has phenomenal faculty. They're always available to talk, and their words, both in class and out, are inspirational," says Cassie. "The chemistry department is fantastic. I had hands-on experience and one-on-one attention all four years, which you usually don't get at other colleges," says Cassie.
Next step, an Air Force career
Accepting the AFROTC scholarship means that Cassie agrees to enlist in the Air Force for four years active duty and four years reservist duty upon graduation from Saint Mary's. She'll enter the Air Force as a commissioned officer, and her job duty will be as acquisitions manager, stationed in Montgomery, Alabama at Maxwell-Gunter Air Force Base. The Air Force only has about 20 chemists positions throughout the entire organization, so Cassie will need to work her way into one of those in the future. Which, with her education, intelligence, and leadership experience, shouldn't take long. After all, she's a leader.