Global leadership skills in a global society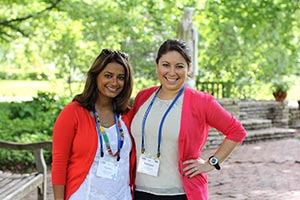 Sarita Fritzler '08 and Adriana Lopez '08 returned to
Saint Mary's for Reunion Weekend in the summer of 2013.
You've heard the phrase "global community," which identifies the interwoven nature of businesses and social justice organizations, and countries tackling issues regardless of location. But, how exactly do you prepare to work in a global community?
Adriana Lopez '08 says that the Center for Women's Intercultural Leadership's (CWIL) Intercultural Leadership Program provided the opportunities to experience a global awareness and education. "The CWIL certificate had the greatest impact in helping me identify as a leader, in creating a safe space for students like me to explore my cultural/ethnic background, and in helping me explore my role as a woman of color (a Latina) in society and at Saint Mary's College."
Part of the first group of Saint Mary's students to earn the Intercultural Leadership Certificate, Adriana and Sarita Fritzler '08 are now both working for international organizations to foster social justice. The experiences and education they received through earning the certificate at Saint Mary's paved their ways to international non-profit work.
Sarita's global education begins at Saint Mary's
Sarita participated in the first study abroad program to South Africa. She presented at two national conferences: the National Council for Research on Women in Atlanta, GA and the National Women's Studies Conference in Chicago, IL. Sarita also attended the Women as Global Leaders Conference in Dubai. "I believe Saint Mary's made me the leader I am today, and really helped me to build the self-esteem, confidence, and passion needed to pursue my dreams," Sarita says.
A political science major with women's and intercultural studies minors, Sarita's life after Saint Mary's began as a community health extension volunteer with the U.S. Peace Corps in Zambia. Sarita started as a program coordinator for emergency health and nutrition with Save the Children U.S.A. in Washington, D.C. She provided programmatic, logistical, and administrative support to the emergency nutrition and health staff. She was on the ground within 24 hours of the Oklahoma tornado in May 2013, and worked for two weeks responding to Hurricane Sandy. "I love working at the community level and promoting civic engagement, which is what I felt I was doing in both the Peace Corps and in my current position," says Sarita. She now works as a U.S. domestic emergencies response specialist at Save the Children U.S.A., where she will help revamp and revise the response strategy, enhance surge capacity, and improve program quality in the responses. Sarita deferred graduate school for one year, where she plans to study for a master of science in nutrition for global health.
Study abroad determined Adriana's career path
In Adriana's first year as a social work major, she traveled to El Salvador, which was a great learning experience. "I learned about the impact of the civil war, international politics, economics, migration, and women's leadership," Adriana says. "The trip helped solidify my desire to work internationally and promote social justice and equality." She feels her Saint Mary's liberal arts education made her a well-rounded individual, and her experiences as vice president for Student Diversity Board, chair of the Diverse Student Leadership Conference, and the traveling through the CWIL office taught her "about leadership, management, effective communication, coalition building, and fundraising."
Adriana currently works as the social services coordinator for the Guatemalan Child Return and Reintegration Project at Kids in Need of Defense (KIND) in Washington, D.C. She manages communications between the U.S. and Guatemala concerning children who are returning to Guatemala, to ensure repatriation and reunion with family members is a smooth process for the children. After graduation from Saint Mary's, Adriana pursued a master of social work and has recently deferred acceptance to begin a master of science in gender, development, and globalization. "When I think about where my career is headed and how far I have come, I am thankful for the study abroad experiences and the leadership opportunities at Saint Mary's College that helped me define my role as an agent of change," Adriana says.
These two alumnae embody the intent of a global community, and both each woman found her passion and began her journey here at Saint Mary's College.