Jill finds internship and residence through Belle network
Opportunities in the Big Apple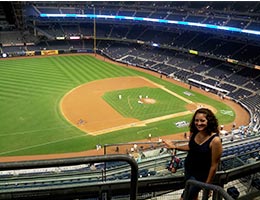 Jill Fata '14 inside Yankee Stadium in New York.

This past summer, I interned with the fabulous Adriana Trigiani '81, best-selling author and fellow Belle, in New York City. I am so lucky to have had the opportunity to work with and learn from her the three weeks I was there. But my internship's connection the Saint Mary's network didn't end there.
Once I knew I was going to New York, I started searching for a place to stay. Many places require a four-week stay, and while I was perfectly fine with living in New York for an extra week, financially, this wasn't the best option for me. I decided to email the Saint Mary's Alumnae Club of New York City. The president forwarded my email to Dawn Santamaria, who then sent my information to all of the amazing former Belles in the area.
I hoped that someone would have an idea of where to look or who to contact, but I was pleasantly surprised when several women suggested their own homes. Some women had grown children and empty bedrooms while others offered air mattresses on their living room floors. The number of women who volunteered to help speaks volumes about Saint Mary's women and our willingness to help one another in any possible way. Those emails made me proud to count myself among them.
Margaret "Peggy" Hill '61, a Broadway producer and benefactor of the Margaret Hill Endowed Chair in Theatre, was so gracious to offer the use of her beautiful apartment for my internship. Hill also sponsors the Visiting Artist Series each year. I am so thankful for her generosity and her close connection to Saint Mary's!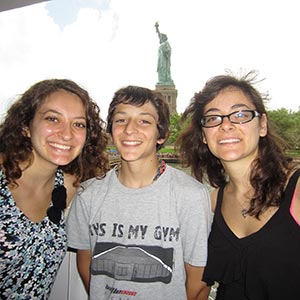 Jill had visitors while in New York, including her two siblings.
My internship was an amazing experience, and I learned so much about the world of a writer in those three weeks. During the first and third weeks, I sorted emails, many from fans all over the world. I also made mailing labels for people that requested bookplates, or even books, and spreadsheets for the upcoming movie set of Big Stone Gap, which is based on Adri's first book. In addition to these tasks, I called venues around Brooklyn to rent for a book-reading and book-signing event that Adri was hosting.
The second week was the week of the Fourth of July. Because she was going to be outside of New York, Adri asked that I read the manuscript for her latest novel, which came out in November. She also requested that I make a list of any changes I would make, grammatical or stylistic, and send them to her. I was so surprised and honored that such an amazing writer was concerned with the suggestions of a college student, but I happily sent them along.
During my last day, I was able to meet with Adri to discuss my own writing and my plans for the future. We talked for a while about the type of writing that I do and my goal of becoming a book editor at a publishing house in New York City. She offered suggestions for classes to take and books to read to help my writing, and agreed to read pieces that I send her. I also worked with her on the set of her movie in Virginia in October.
I can't believe all the amazing experiences I've had through Saint Mary's!
~Jillian Fata '14