Joy Viceroy shares her faith with Ireland's Catholics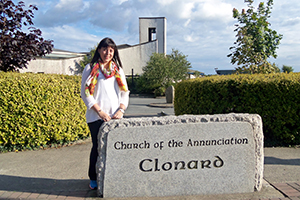 Joy Viceroy '13
At a Catholic women's college, faith can be as large a part of the Saint Mary's experience as the student wants. For Joy Viceroy '13, her Catholic faith is as large a part of her education as it has been a part of her life. She began singing in her local parish at age nine and continued as a member of the liturgical choir and singing Sunday masses at the Church of Our Lady of Loretto. Joy served as a pastoral music leader for Campus Ministries and cantored Sunday masses. "I realized the power of my ministry. Singing at Sunday night residence hall mass became my favorite part of the weekend," Joy says.
Catholic faith as post-graduate plans
Graduating with a double major in theatre and music in four years, Joy applied to many graduate programs, in addition to a Fulbright Scholarship and a teaching assistant position in France. While she was accepted to almost all of the programs she applied, she chose to forgo teaching in France and exclusive theatre graduate programs to be the house director-in-training with the House of Brigid, Inc. in Ireland.
While Joy is sure House of Brigid is where she should be at this point in her life, she admits she was unsure of her future when applying for graduate programs. "I was overwhelmed at what I had gotten myself into and was seriously questioning if grad school was the right step for me to take. The House of Brigid email was like a tap on the shoulder from God himself," she says. "Liturgical music, diocesan outreach, and youth catechesis have all been an integral part of my spiritual life since I was a child. The position was literally a perfect fit."
House of Brigid originated with the University of Notre Dame's Folk Choir to save the waning Catholic faith in Ireland. Young Catholic adults like Joy provide not only an example of faith in early adulthood, but also schedule activities, lead workshops, and direction of the choir. Joy accepted the offer of house director-in-training for this year and next year will serve as house director. At Clonard Parish in Co. Wexford, Ireland, Joy will be the director of the Youth Choir and the spring Passion Play, the Diocesan Confirmation Retreat Team liaison, and the Confirmation program administrator, among several other duties.
A confident Catholic
"Saint Mary's is one of my favorite places on Earth. I'm proud of that identity and I want to share with everyone," Joy says. She credits Saint Mary's with providing her not only the opportunity to grow her faith, but also the experience and confidence necessary to take on this position in Ireland. One of her obligations with House of Brigid is the spring Passion Play, which she will write, direct, choose music, and design the set. Creating a play from beginning to end is something Joy has already accomplished thanks to her comp, or senior comprehensive project, a required research project, body of work, or exam in the major. Between the comp and the confidence and leadership she learned, Joy says, "it's so affirming to see how the results of my Saint Mary's education translate into the work here."