Be more than you ever thought possible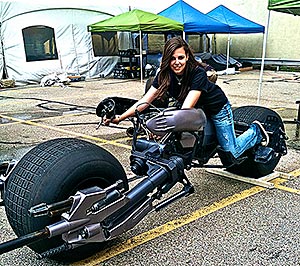 Kate on the Batpod on the set of The Dark Knight
Rises
Hollywood Hennessy
Currently working as a production assistant on the hit show Glee, Kate Hennessy '12 makes sure the actors are camera ready when the director calls for them. She's worked on various movies and TV shows, including The Dark Knight Rises, The Perks of Being a Wallflower, The Amazing Spider-Man 2, and Interstellar. She is the direct liaison between the set and the actors, called running basecamp, on several films like Jack Ryan and Foxcatcher, which stars Steve Carrell, Channing Tatum, Mark Ruffalo, Sienna Miller, and Vanessa Redgrave. "There's an adrenaline rush and a sense of camaraderie that you get on film sets that I haven't been able to match anywhere else," Kate explains. Her exciting career has its own IMDb page, and it began before Kate even set foot on The Avenue.
When a Lifetime movie filmed her senior year at her Pittsburgh high school, Kate called about twenty-five people looking for any opportunity to work on the film. She reached the location manager, who agreed to let her work one day. When the next movie was being filmed, Kate was called to work again and a career path was established.
Saint Mary's first, then career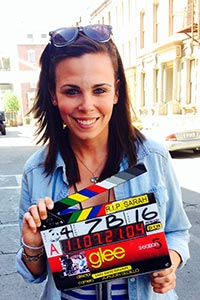 Kate holding the clapboard for
Glee, on which she currently
works as production assistant.
She could have skipped college and built a career, "but going to college was important to me, so working on films was put on the backburner for the summers between school years," Kate says. Her degree at Saint Mary's covered all her interests− a double major in film and creative writing with a minor in business and theatre.
Attending Saint Mary's provided Kate with several learning experiences, like "the self-confidence to know that I can go after anything I want. The professors helped harness that self-awareness in their students with the small classroom discussions," says Kate.
Her study abroad experience in Maynooth, Ireland was especially beneficial. "Living abroad taught me more than I could ever learn in any classroom or on any film set. It taught me patience, understanding, courage, gratitude, flexibility, and so much more," Kate says. For a young woman who started her career in high school with sheer tenacity and a spark of opportunity, you may not expect that she needed to learn self-confidence. But Kate's early years were a struggle.
Struggling through the early years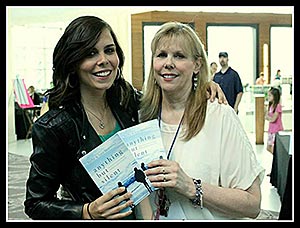 Kate and her mom Kathy Horgan Hennessy '80
at a book signing for their book, Anything But Silent.
As toddlers, she and her brother were diagnosed with Childhood Apraxia of Speech (CAS), a motor speech disorder. Kids with CAS have trouble saying sounds, syllables, and words because the brain has difficulty moving the body parts necessary for speech (e.g., lips, jaw, tongue). Growing up with CAS was difficult, but with the loving support of her mom, Kathy Horgan Hennessy '80, Kate persevered. "Working on all those shows has been so fulfilling and enjoyable, but the project I'm perhaps most proud of has been the book I co-wrote with my mom," says Kate. Anything But Silent is about the experiences each had with Kate growing up with CAS.
Overcoming such a difficult childhood struggle, initiating her career with a handful of cold calls, and becoming a published author all before hitting the quarter century mark prove that Kate is determined to succeed. And Saint Mary's provided the confidence she needed.