Kelley gives back to the community all that she receives from Saint Mary's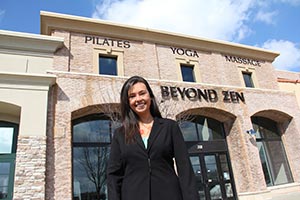 Kelley Wright outside a local business run by a
woman who participated in the SPARK program for which
Kelley volunteers.
Many think that college is all about receiving—the best education, life experience, and career preparation. While that's certainly true, many students here at Saint Mary's feel that college is also about giving back. For Kelley Wright '15, an accounting major, "giving back is something that has been instilled in me my whole life, whether it be donations of any kind−food and clothes, monetary donations, and even blood donations−or community service, I've always tried to give what I can." Through the activities she's involved in, Kelley's time at Saint Mary's benefits many.
Giving back on a local level
A local resident for the past 12 years, Kelley likes how the Women's Entrepreneurship Initiative's SPARK program gives back to the local community. She tutors and mentors high-potential, low-income women from the community on how to start their own business, calculate revenue and expenses, and about cash flow. More than these concepts, the program is a chance to share the Saint Mary's philosophy, Kelley says. "Saint Mary's teaches students not just in the classroom but also what kind of woman they'll be. This program gives other women a chance to have that same opportunity," she says. This program benefits local women, who go on to start local businesses, which strengthens the local economy.
Another way Kelley gives back to the local community is through the tax assistance program in conjunction with the University of Notre Dame's Vivian Harrington Gray Tax Assistance Program, which provides free tax services to low-income and disabled residents. "My mom has always taught me to give back. Even if it's a couple of coins in your pocket, you should always have that feeling of wanting to give back. Give back what you can," Kelley says. This is Kelley's first year with the program, through which she was recently certified by the IRS.
Learn more, give back more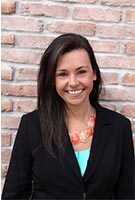 Kelley works at the Office of Treasury Services at the University of Notre Dame. She recently helped implement a bank scorecard that enables feedback about banks. The multi-step project gives her hands-on experience. "I worked on the bank scorecard project for approximately a year before it was implemented. I had to do the research and essentially teach myself how the products and tools work in order to put the process together. I know I would not have the independent and critical thinking skills required had it not been for my education at Saint Mary's." Kelley receives the benefits of practical experience and knowledge through her work project. "I think one of the greatest lessons I have learned now, and one that I'll carry with me for the rest of my life, is that I can use the knowledge I have gained in my time here at Saint Mary's and give that back to those who need it." New skills learned mean new ways to give back and benefit many.