Kelly Konya receives grant to research poet in Ireland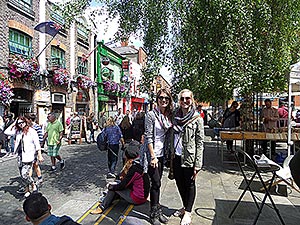 Kelly Konya and friend in Ireland.
During my time studying abroad in Rome in the fall 2012, I grew interested in many aspects of the Italian culture, especially in the realm of Italian literature. To my surprise, I stumbled upon a translation of an Italian poem by Irish poet Seamus Heaney in the New Yorker, and ever since, I hoped to someday understand why an Irish writer was so devoted to Italian and classical influences in his own works and scholastic life. I was awarded the Saint Mary's College Summer Travel and Research Grant by the Nanovic Institute for European Studies and spent this summer in Dublin at Trinity College and the National Library of Ireland researching a poet I admire in the most appropriate and rewarding context.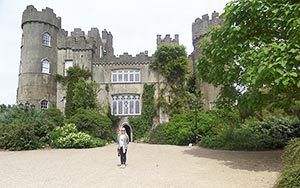 Kelly in front of Malahide Castle.
This was undoubtedly one of the best experiences of my academic career. By studying Heaney's personal papers and manuscripts, I now appreciate the poet's admiration of the past, which reaches beyond Ireland's complex history towards the greater history of mankind and the common experiences that unite us in every culture across the globe. Heaney is Ireland's poet, but he is also a cosmopolitan writer who thoughtfully observes the present in light of the past. Heaney's work demonstrates that he was constantly aware of the ways in which poetry can represent an entire voice of a nation through periods of cultural and political conflicts.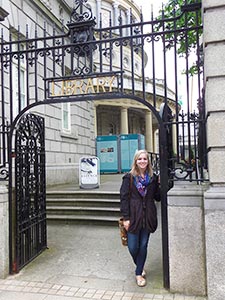 Kelly at the entrance to the National
Library of Ireland, where Seamus
Heaney's collection is kept.
Waking up each morning in Dublin, I was excited to unearth the many discoveries awaiting me within Heaney's 300+ manuscripts at the National Library of Ireland—a true treasure trove for any lover of words. Heaney's meticulous edits and attention to selecting the perfect words for each poem were inspiring to me as a writer, and I was consistently awestruck when handling his very journals and letters in my hands. Besides his brilliant scholarly essays on Italian writers like Dante and many others, I enjoyed Heaney's doodles, side-notes, to-do lists and quotations; beyond uncovering Heaney's writing process and influences, I was able to come to know him as an ordinary person as well. Friends and colleagues of Heaney remember him for his humility and his compassion, and by the end of my research, I could picture him in this vein, for his noted thoughts and musings were always considerate.
In addition to archival research, I experienced Dublin in a way that I did not predict. Though I was aware the city is named a UNESCO City of Literature, I was pleasantly surprised by the amount of enthusiasm for writers and words throughout the city. Whether it was attending readings and performances on Bloomsday (a celebration of James Joyce's novel Ulysses), visiting the numerous museums and exhibitions dedicated to Irish writers, or talking with fellow scholars both in and outside of the library, I was engulfed by literature in every nook and cranny. Dublin is foremost a literary city, and it is only sound for Heaney to have acknowledged the writers who came before him in his poems and speeches, just as he always made sure to do. I could not get enough of the literary community in Dublin and the way in which every person I encountered, from cab drivers to doctoral candidates, seemed to value Heaney and the other timeless writers who constitute Ireland's literary repertoire.
Both this experience and my education at Saint Mary's, where I am able to work closely with professors on similar research endeavors throughout the school year, have prepared me for all the challenges of a postgraduate degree. Since I had such an amazing experience researching Heaney and learning about other Irish writers, I now hope to pursue this field of study and am looking into returning to Ireland for graduate school. There is nothing more satisfying to me than to be immersed in a community of literary enthusiasts, and I would love to live and study in Dublin once again.
~Kelly Konya '15