Opportunities in writing, media relations, and leadership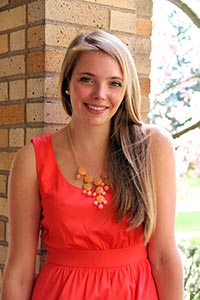 In March of 2009, my mother and I left Queens, NY on a small rickety plane bound for Saint Mary's. We were headed to "Meet Me at the Avenue," a weekend for high school seniors accepted to the College. Unsure but excited to see what Saint Mary's had to offer, I had a delightful first visit, especially meeting members of the English department. I quietly teared up during the flight home because while I knew this was the place for me, it was a place in the foreign Midwest, where I saw bountiful rows of cornfields, an unfamiliar adventure.
Adventure abroad
My adventure continued my sophomore year. While most of my friends were packing rain boots for Ireland or dreaming of gelato in the streets of Rome, I decided to venture off to Seoul, South Korea, as the second student at Saint Mary's to ever participate in this program. I ate live octopus and visited temples scattered between high-rise buildings. I was selected for the competitive position of a Global Campus Leader on Ewha University's campus. I welcomed international guests and was invited to attend events, including an address by Angela Merkel.
Opportunities in leadership and writing
In my junior year, I was able to stretch my leadership skills on a national level. I was appointed to the National Student Advisory Council for the American Association of University Women (AAUW). With only nine other students selected from across the country, I was honored to represent women from U.S. universities/colleges for the 2011−2012 school year. I participated as a facilitator in the National Conference for College Student Leaders (NCCWSL) in Washington, D.C.
That same year, Cat Cleary '12 and I applied for and received an AAUW Campus Action Project Grant. We co-created Use Your Voice, an interactive, hour-long sexual harassment awareness program for ninth graders. Over our spring break, we presented this writing workshop to 1,400 students in three public high schools and distributed copies of AAUW's research report on sexual harassment in high school to teachers, administration, and the community school board. We were able to present our grant at NCCWSL and write about our experience on AAUW's blog, Dialogue.
My initial interests in writing evolved into my passion. Through my senior writing comprehensive course, I spent a semester writing a chapbook of poems titled Essence of the Gilded. I have also been published as associate producer for Galtime, a digital women's magazine where I write numerous articles a week for both their national and local sites; as a freelancer for Irish America, the most subscribed Irish magazine in the country; and in the Courier Summer 2013 issue.
Media relations experience
The adventure lasted through my last semester when I became a media relations intern for the College. In addition to learning how the news media operates, this particular experience enabled me to seamlessly shift between different forms of writing, including web, newspaper, and press release styles. My responsibilities have included writing press releases as well as articles for the faculty newsletter and the South Bend Tribune, attending a morning news meeting and shadowing a reporter at WNDU-TV, and welcoming media to campus for events, including facilitating three live shots for this year's Dance Marathon for Riley Hospital for Children. The internship has better prepared me for my future endeavors as a writer and provided me with a unique skill set.
As I pack up my Opus Hall senior apartment, I'm excited to put all of my experiences to work. With a strong recommendation from English professor Max Westler, I was hired as a personal assistant to Adriana Trigiani '81, novelist and film director. This little school tucked gently behind a canopy of trees has given me its all— and I am grateful. My journey with Saint Mary's will certainly proceed on, but now as an alumna!
~Laura Corrigan '13
media relations intern