Michelle Leonard's life after Saint Mary's knows no boundaries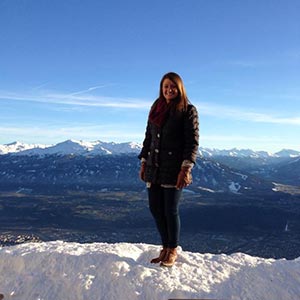 Michelle stands on top of the Nordkette Mountain in
Innsbruck, Austria.
Michelle Leonard '12 did just what she dreamed she'd do after graduating. She spent a year teaching in Austria.
In October the education major moved from Milwaukee to Sankt Pölten for a one-year assignment. She taught English to teenagers—mostly young men—at a school that focuses on engineering, electronics, and computer science. It's a teaching assistant position with the Austrian Government Teaching Assistantship Program. The Fulbright Commission administers the program for the Austrian Federal Ministry of Education, Arts, and Culture.
A return to Austria
Michelle discovered her passion for the German language and Austrian culture during a semester abroad in Innsbruck in the spring of 2010, her sophomore year.
"Ever since I came back from Innsbruck, I started thinking this was something I wanted to do because the time I spent there was the most wonderful experience I have ever had," Michelle says.
"When senior year began and my friends started looking for jobs, I thought this was the perfect opportunity to try going back to Austria. I told myself that I might not ever get this opportunity again so why pass it up now? Looking back, it was one of the best decisions I have ever made."
A Saint Mary's education is the key to her success
Michelle graduated in May 2012 with a degree in elementary education and was an active member of the Saint Mary's community. She was a four-year varsity soccer athlete and was a member of the Student Activities Board and the student club GLITTER (Girls Linking Ideas Together to Empower "Rselves").
Michelle attributes much of her success to her experiences at Saint Mary's.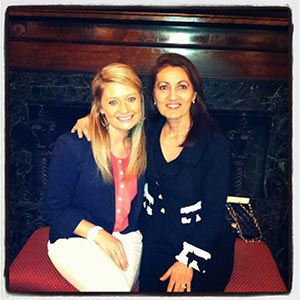 Michelle Leonard sits with Marianne Hahn, lecturer
of modern languages, at the Women Honoring
Women award dinner. Leonard nominated Hahn.
Michelle says Saint Mary's German lecturer Marianne Hahn equipped her with the skills to take on this teaching assignment abroad, while being an athlete helped her in other ways.
"Frau Hahn gave me the confidence to speak German and take on any opportunity that gets thrown my way. She helped give me the confidence I needed to succeed in this experience through her hard work and passion for teaching. The athletic department played a big role in preparing me with time management skills."
Michelle says the academic year went well.
"Everyday brought new challenges and I was constantly on my toes adapting lessons to meet the needs of my 13 different classes. The Saint Mary's education department showed me that I could transform an ordinary lesson into something amazing with only a few small changes and a lot of creativity. I am definitely more comfortable and confident in everything I do, whether it is teaching, traveling, or exploring my city."
Another teacher's assistantship selection
Erin Marks '13 was selected by the Austrian American Educational Commission (AAEC)/ Fulbright Commission for the U.S. Teacher's Assistantship (USTA) for the 2013-2014 academic year. She'll be teaching in Imst, Tirol, about 45 minutes outside Innsbruck, from September through May. She'll be the only USTA teaching in Imst.
Plans for Michelle's future
Michelle says she's grateful for her unique Saint Mary's experience and how it helped her succeed as a teacher in Austria and in the future. Now returned from Austria, she says she'll miss the Austrian cuisine and the "freedom of hopping on a train at anytime to take me somewhere in Europe."
In the summer of 2013, Michelle will be lead teacher in a kindergarten classroom in Menomonee Falls at a summer camp for corporate employees' children while searching for an elementary teaching position for the upcoming school year.
"Saint Mary's is a place where women are taught that we can do anything we set our minds to and attending Saint Mary's helped turn my dream into a reality. This past year opened up my eyes to so many different possibilities by teaching me that anything is possible if you set your mind to it." Michelle says.
~Cailin Crowe '13