Motorcycle Maven Natasha Flores '12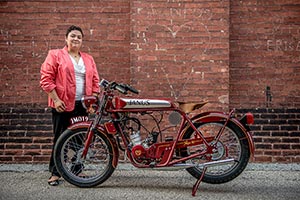 Natasha Flores '12, posing with a bike
manufactured by Janus Motorcycles.Natasha Flores '12 doesn't ride motorcycles (yet), but she does build and sell them. As Chief Operating Officer at Janus Motorcycles in Goshen, Indiana, she handles a variety of aspects of the business, from balancing the finances to building the wire harnesses to talking to customers. And she says her Saint Mary's education and experiences fully prepared her for her first job out of college. "Overall, Saint Mary's College just gave me the confidence and vital skills to pursue my dreams," Natasha says.
The challenging courses, the rigorous workload, and her campus job taught her time management and multitasking skills. Natasha credits her senior comp as a valuable experience. A mathematics major, Natasha's senior comp involved the mathematics behind climate change. Much of her comp involved deriving the equations that drive climate studies today. These skills help her now in her job as COO, but also proved beneficial while she pursued her master's of science in engineering, science, and technology entrepreneurship from the University of Notre Dame. "Having the experience of presenting and writing my senior comp made writing and defending my thesis so much easier to handle," she says.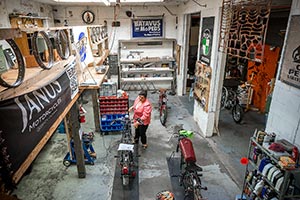 Natasha Flores inside the shop where she helps
build custom motorcycles.
"As the COO you learn that no two days are the same," Natasha says, and her job in the Office for Civic and Social Engagement (OCSE) was good training. "My job at OCSE prepared me for this position in so many ways. I learned how to schedule and plan events, communicate with individuals of all levels (from students to business owners), and work on different projects at the same time and do so effectively," Natasha says. "I use math every day as well; however 90 percent of the time, I am using analytical and creative thinking skills," skills that are emphasized in the liberal arts curriculum at Saint Mary's.
While it may seem unsual for a math major to have ended up wiring motorcycles and handling the day to day business, Natasha's experience highlights the broad applicability of the skills and education earned at Saint Mary's.