Be more than you ever thought possible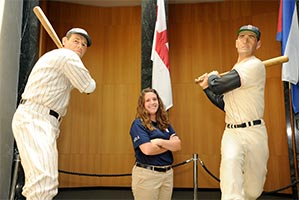 Nichole was one of the few students selected from a pool
of about 500 applicants for an internship at the National
Baseball Hall of Fame.
Being named an Orr Fellow and securing a job before she graduated are quite the accomplishments. And for Nichole Clayton '13, it's two more goals she check off her list.
Nichole's fellowship is with Courseload, based out of Indianapolis. Courseload is a new company developing a format for online learning, where faculty and students can interact virtually. With Courseload, she's supporting higher education, which is aligned with her goals. "Whatever I did, I needed a purpose. I needed it to be bigger than myself," Nichole says. Courseload works with the Governor Bob Orr Indiana Entrepreneurial Fellowship, which provides a unique opportunity for about 25 Orr Fellows to break into the professional world through paid positions with high-growth Indiana companies.
Nichole enjoys the opportunity to explore other departments at Courseload−marketing, academic partnership management, data analytics−in addition to her position as an academic services manager for specific universities and colleges around the country. "If the fellowship and Courseload have taught me anything thus far, it is to always capitalize on opportunity, embrace change, prioritize relationships, and never, ever compromise culture," says Nichole.
Study abroad and internships provided "beyond the books" learning
Nichole checked another item off her list during her years at Saint Mary's College. When she traveled to Australia her sophomore year, she came another continent closer to fulfilling her goal of visiting all seven continents. (Antarctica is the only one left.)
Her semester abroad in Fremantle, Australia was a "beyond-the-books experience," she says. "My passion for travel and learning new cultures certainly has activated personal growth. I have developed self-sufficiency, independence, flexibility, and effective and efficient communication skills during my semester in Fremantle," she says. Even though the language is the same, the culture is completely different and that made for an exciting learning experience.
She interned in the summer of 2012 in Cooperstown, NY, at the National Baseball Hall of Fame. She managed, coordinated, and implemented the All Star Gala, and participated in the Hall of Fame Induction Weekend. "Having the opportunity to be on the front line and being the first to greet the fans into the Hall of Fame was so rewarding. Their passion for the game and their gratefulness for our service warmed my heart," says Nichole.
What boxes will you check off while at Saint Mary's?
Nichole was chosen to receive the Orr Fellowship from thousands of applicants and she was selected for the Baseball Hall of Fame internship from a pool of 500 applicants. The prestige of these two opportunities says great things about Nichole's ambition and experience, but it also speaks to the quality of education and variety of opportunities she enjoyed while at Saint Mary's College. "Saint Mary's set the stage for challenge, challenging me to think outside the box. Empowerment to go after what I want, and the knowledge of how to go after these opportunities," Nichole says. Experience, internships, and a fellowship position secured prior to graduation are all checked boxes for Nichole. Now all that's left is to create more goals, more boxes to check.