Sarah created Girls' Club to address issues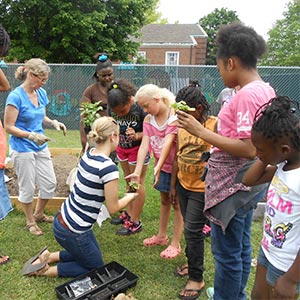 Sarah and the Girl's Club gardening in the summer of 2013.
After receiving two grants in the summer of 2013, junior nursing major Sarah Hossfeld knew what group she wanted to help. "I thought, I would love to do something with young girls that addressed body image and healthy eating," she says. So, she approached St. Margaret's House, a local day center for women and children, and Girls' Club was born.
A place for girls to connect
A club for girls ages 8-14, Girls' Club featured activities like field trips to HealthWorks! Kids Museum; working in a unity garden; cooking and healthy eating; and journaling. The girls also did The Barbie Project, "where Barbie was compared to a real girl's dimensions, which illustrated how unrealistic the image is compared to real life," Sarah says.
Girls' Club met four days a week for eight weeks over the summer. Even in such little time, Sarah saw changes in the girls. Her initial goal for the club was to have girls participate and enjoy themselves, and she feels she accomplished that goal. An ongoing club goal is to make a positive impact on the girls' lives and show them how great they all are.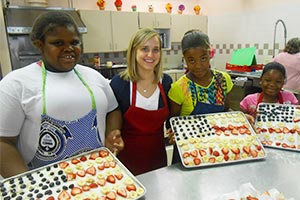 Showing off some American flag desserts they made
during a cooking activity.
"I also think that this is something that takes more than one summer program to instill in them. Girls/young women need positive reinforcements and good role models throughout their lives in order to protect them from the barrage of negative influences and stereotypes that our society holds," Sarah says.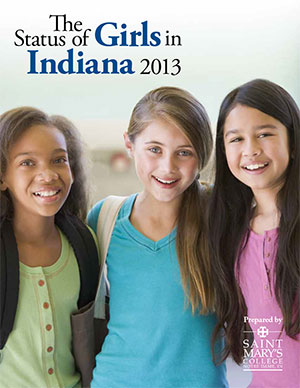 The Status of Girls in Indiana 2013 report

Girls' issues echoed in Status of Girls report
Many of the issues facing young girls were highlighted in The Status of Girls in Indiana 2013 report released by Saint Mary's College in September 2013. "There were quite a few areas that were addressed in the report that I saw on a regular basis during my time at St. Margaret's House," says Sarah. "Physical health and obesity are big issues, not because of a 'size' or a 'number,' but because of the health risks and health problems that come with it." With the many subjects covered in the report, from health to education to demographics, the report "brings to light many different issues and shows how important places like St. Margaret's House and Girls' Club are."
Sarah and her Girls' Club are creating change in these young girls' lives and in the community by addressing these issues in an impactful way. That's part of the unique education that is Saint Mary's—learning through experience while also helping others.
To view or download the full Status of Girls in Indiana 2013 report, visit saintmarys.edu/StatusOfGirls