Undergrad's research affects thousands of Indiana girls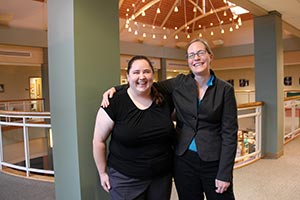 Research opportunities are usually reserved for graduate level students at most schools, but at Saint Mary's, there are many undergraduates doing advanced-level research. The research Gina Deom '13 completed affects not just her education, but also the education of thousands of Indiana girls.
A statistics and actuarial mathematics major, Gina's interests in statistical mathematics fit well with professor Kristin Kuter's involvement with the The Status of Girls in Indiana 2013 report, a project headed by Saint Mary's Center for Women's Intercultural Leadership. The report collates data concerning girls ages 10 to 19 in Indiana and is broken down by topics such as demographics, education, and health, and serves as the beginning of a data warehouse for state agencies, educators, and policy-makers.
A professor of mathematics, Dr. Kuter knew that collecting and sorting data would be "an exercise in exploratory data analysis, something I teach statistics students," she says. Gina says, "I thought that getting involved in a project pertaining to girls in the state of Indiana would be very meaningful and could make a difference in the lives of Indiana girls."
Gina became so invested in the project that she and Dr. Kuter applied for and were awarded a grant (the Maryjeanne R. Burke and Daughters Pretenure Faculty SISTAR Grant) to spend the summer months of 2012 collecting and analyzing data. "It was a great experience to work with a faculty member on a project of such magnitude. Since Dr. Kuter has a lot of expertise with data analysis, I learned a lot from working with her. We were both very interested in the subject areas covered in the Status Report, so we enjoyed discussing the results and coming up with possible explanations," says Gina.
"Working with Gina, in a word, it was wonderful. Her dedication to the completion of the report was so great that she continued to assist me over the summer even after she had graduated in May. About a third of the report−specifically, the education section−is entirely due to Gina's hard work," says Dr. Kuter.
Gina also focused on the data for her senior comprehensive project, a research project, body of work, or exam required of all majors. Gina applied a statistical technique (principal component analysis) to analyze the relationship between common characteristics of Indiana public school corporations. Using this technique, she was able to identify how characteristics such as enrollment, percentage of students on free/reduced lunch, ISTEP scores, and many others were correlated. These correlations, along with the data, can inform organizations and politicians in their work.
Perhaps the best part about this story is that Gina is not the only one benefiting from her research opportunity: The Status of Girls in Indiana 2013 report will have a lasting impact on girls in Indiana for years to come. This research opportunity became an opportunity to change the future.
Released on September 19 during press conferences in Indianapolis and in South Bend, the report is available to download at saintmarys.edu/StatusOfGirls