You're smart; become brilliant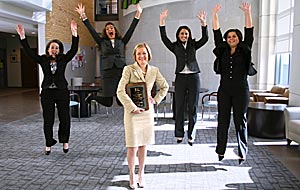 The Saint Mary's accounting team celebrates its first place
victory at the Indiana Certified Public Accountants Society
case competition. Members are, from left, Allie Courtney,
Chelsea Pacconi, coach Professor Mary Ann Merryman,
Maggie DePaola, and Katie Gutrich.
Accounting students at Saint Mary's College expect success. And they expect to earn it by pushing themselves through coursework that never lets up, team meetings that run late into the night, writing that demands perfection, and—notoriously—presentation after presentation after presentation.
It pays off: Saint Mary's accounting majors land prestigious internships and go on to find jobs, usually before graduation and often with top firms. Or, if grad school is their focus, they get in.
"We pushed each other and challenged each other to stay focused and motivated to be the best."
And, in the past two years, hard work earned first-place wins for the Saint Mary's accounting teams at the Indiana Certified Public Accountants Society (INCPAS) case competition in Indianapolis.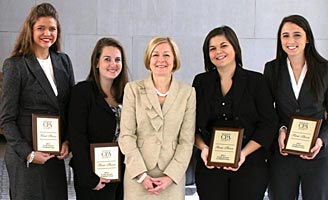 This November, the four-woman Belles team, coached by Professor Mary Ann Merryman, beat teams from 10 Indiana colleges and universities in the 2011 general competition. On November 18, they went on to defeat five finalist teams from Indiana University–Purdue University Indianapolis (IUPUI), Purdue University Calumet, Valparaiso University, Manchester College, and Indiana Wesleyan University.
"It was just incredible to win the contest for a second year in a row!" says senior Maggie DePaola, who competed in the contest last year as a junior. "Part of me couldn't believe it; but in another sense, it wasn't surprising at all. We had put more than 90 hours into this project in a week and a half. And the accounting program at Saint Mary's really prepared us overall."
Teammate Allie Courtney was the other returning senior on the squad. As seniors, Maggie and Allie were in charge of choosing two accounting juniors for the remaining spots: Katie Gutrich and Chelsea Pacconi.
This year's objective was to develop a knowledge management system (a system for organizing information) for a fictitious CPA firm. The Belles had 10 days to complete a whopping 50-page case paper, plus 23 pages of appendices. The paper, which contained an executive summary that one judge called the best he'd ever read, got the team into the finals. Then the students had one week to prepare a presentation, which was ultimately praised as outstanding by the panel of four judges.
So what put the team over the top? "I think it definitely was our motivation and determination going into it," says Allie. "We pushed each other and challenged each other to stay focused and motivated to be the best."
And then there was Merryman, who has led the Saint Mary's team to the final round of the competition for the past six years. "I couldn't be prouder of the Saint Mary's team," Merryman said. "They worked extremely hard on the case and their hard work definitely paid off."
Maggie says the team couldn't have won with out Merryman's help. "Professor Merryman handles all the planning and coordination with the Indiana CPA Society," Maggie says. "She also worked with us and encouraged us throughout the process. For the written report she made suggestions and helped us proofread, which was not an easy task because of the length of the report. She came late one night to watch us practice our presentation. She gave us constructive criticism that made a big difference."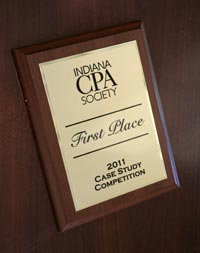 "She drove us to Indianapolis for the final presentation. She took hours and hours of her own time in order to give us the opportunity to participate in this case competition. We could not have done this without her."
Maggie and Allie also credit Merryman and their other accounting professors for helping them secure promising jobs. Maggie has been hired by Ernst & Young in Pittsburgh to work as an auditor after graduation. Allie will head to Boston to work at Deloitte LLP as an audit associate.
"The accounting program has been challenging, but the support we receive from our professors really pushes us to grow and succeed," Allie says. "The small class sizes and support we receive at Saint Mary's definitely differentiates our accounting program. I am so grateful that I am both at Saint Mary's and an accounting major. I'm prepared to start my full time job because of my experiences and opportunities here."
Published December 12, 2011.