Educating heart, mind, and soul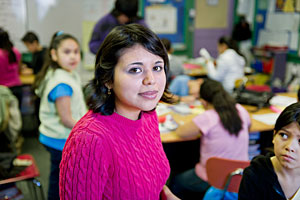 Alma Bravo of South Bend has volunteered as a
First Communion teacher at her home church,
Saint Adalbert's, since 2009. A group of third graders at Saint Adalbert's Church in South Bend watches Alma Bravo take a green pipe cleaner and a few pieces of pink crepe paper and, with a few twists, shape it into a beautiful rose. It is almost the feast day of Our Lady of Guadalupe, and Alma—volunteer teacher for this First Communion class—has just told how Mary appeared in Mexico almost 500 years ago, miraculously causing roses to bloom in winter.
"It's Christ's greatest commandment to love others."
Now the kids are ready to make their own roses. It's not easy—their paper tears, their roses fall apart. "I can't do it," one girl complains.
"Don't say 'can't,'" Alma says cheerily, helping the girl rescue her rose. Then she moves on, offering each child her calm assistance that has touched many lives.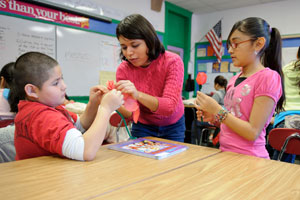 Alma shows students how to make paper roses
in honor of Our Lady of Guadalupe.Alma, a senior from South Bend studying social work, has logged more than 600 hours volunteering for multiple organizations. She has won awards for her efforts, but doesn't like to talk about them. She prefers to speak about our responsibility to each other.
"We are all interconnected and depend on each others' efforts to make the world better," she says. "Everyone has the responsibility to help others. And I just love to do what I can to improves others' lives."
Even if Alma is humble about her awards, they're too impressive to ignore. As a freshman, Alma received the Sister Maria Concepta McDermott Award for her work with elementary students who speak English as a second language.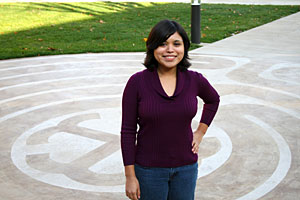 Alma says her volunteering is driven by her faith.
"It's Christ's greatest commandment to love others
the way you love yourself," she says.This year, she received the college's Spirit of Service Student Award. And La Casa de Amistad, which serves the Hispanic community, named her Volunteer of the Year for her work with Fiesta Michiana, its food bank, and providing interpretation and other services.
As a senior, Alma works at Catholic Charities in South Bend to fulfill degree requirements. She is an adoption and pregnancy specialist and works with the ECHO (Education Creates Hope and Opportunity) program that helps girls graduate from high school when they are pregnant or have children. "Sometimes it's hard for them," Alma says. "But they're resilient and know they're capable of getting ahead."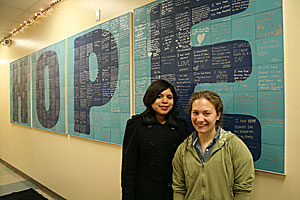 Alma and Aileen Hurd, also a senior majoring
in social work, did research to benefit Hope
Rescue Mission, a homeless shelter in South Bend.To Alma, it's an honor to help clients. "I've always kept in mind that bad things don't happen to people because they were bad. In life there are adverse moments. If my clients are struggling, the least I can do is let them know they are not being judged."
Alma plans to pursue a master's in social work. "It's a profession that truly promotes social justice, and I love that," she says. "My dream is to help improve the communities where I will live. I want to wake up every day feeling that I am contributing to the world."