Discover who you're meant to be: Annie Doyle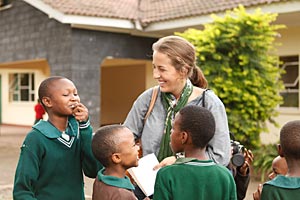 Annie Doyle loves kids, and she knew when she enrolled at Saint Mary's that she wanted to become an elementary school teacher. She also knew she wanted to go abroad during college, but because she's a guard on the basketball team, opportunities were limited. However, Annie, a junior, managed to arrange a summer experience that perfectly combined her interest in kids and international travel. An internship in Tanzania "turned out to be exactly what I was looking for."
A family friend told her about the Foundation for Tomorrow (TFFT), a nonprofit organization that helps Tanzanian orphans gain scholarships to attend boarding schools and develop leadership skills. Annie had a chance to talk with TFFT founder, Meghann Gunderman, before she signed on: "Meghann told me she does not believe geography has the right to determine a child's future," Annie says. "As soon as I heard that, I knew I had to do more."
She jumped at the opportunity for an internship during the summer of 2011. "With the support of the education and athletic departments I was able to raise money and plan a five-week internship," she says.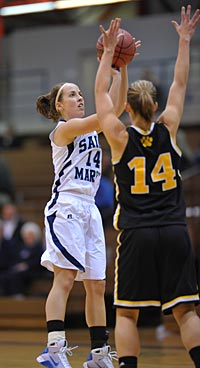 Her internship duties were to update student profiles by interviewing, photographing, and videotaping students in their daily lives. Some of the students latched onto Annie right away, smothering her with hugs and talking her ear off. "The little kids climbed all over me," she says. "They loved to play with my camera and my hair. While it is exhausting to have 15 five-year-olds constantly climbing on you for an hour each day, they could make an OK day an extraordinary day for me."
The older students eventually warmed up to her, too. "They sat back and watched me before they came and talked to me," she says. "But by the end of my five weeks, they were shouting at me about their favorite foods, colors, what they want to be, and anything else on their minds."
Even though her experience in Tanzania is months behind her, Annie is still passionate about TFFT and dedicated to its mission. She organized a visit to Saint Mary's by TFFT founder Gunderman and encourages others to support TFFT.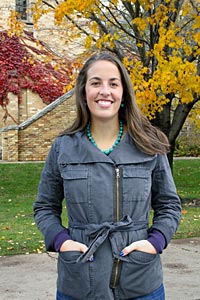 Her experience also has given her new career options. "With my belief that every child deserves the opportunity to receive an education, I would love to work in the special education field," she says. "Eventually I would love to get my master's degree, but after my summer experience, I'm considering working internationally first.
"No matter what I decide to do, Saint Mary's College gave me the confidence, skills, and resources to take my beliefs into action."