Small campus, big opportunities: Ashley Biehl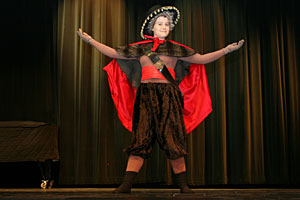 Ashley Biehl, a senior from Marinette, Wisconsin,
rehearses her role as The Cat. Senior Ashley Biehl takes music seriously. For four years, she's immersed herself in vocal training through Saint Mary's accredited music program. She hopes to make a career as an opera singer one day.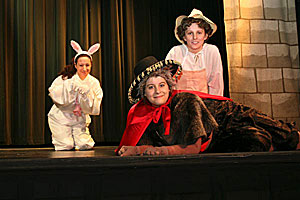 Taylor Costanzo (left) and Jena Sweigart
join Ashley on stage.So it was a bit of a departure to prepare for her latest operatic role. "I'm the lead in Puss in Boots, so I have to put myself into the mindset of a cat," she says. "It's not easy! Yes, he's a very intelligent cat, but he's still a cat. Motivations are different. I have to use mannerisms that are completely foreign to me. I've studied a lot of funny cat videos on YouTube to try to understand how cats move and react to different things."
She'll combine her feline and operatic skills during the show's run from February 16 to 18, 2012.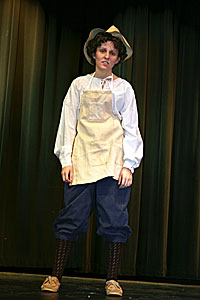 First-year student Jena Sweigart
from Celina, Ohio portrays The Miller.The opera centers on The Cat formulating a plan to improve the life of his beloved master—and, in turn, his own. Clever and ambitious, The Cat is more than willing to use trickery to get what he wants.
"Puss in Boots is a great children's opera," Ashley says. "It's a fun story set to beautiful music, it lasts only an hour, and it's sung in English. For anyone—child or adult—who has never seen an opera before, Puss in Boots can serve as a fantastic introduction to the genre."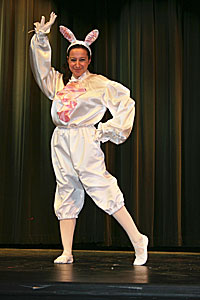 Taylor Costanzo, a first-year student
from Rehoboth Beach, Delaware,
charms as The Rabbit.Puss in Boots is not Ashley's first experience with opera. Her past performances at Saint Mary's include Lucy in The Telephone as well as Jack's mom in Into the Woods.
"I've always loved to sing," explains Ashley. She started taking piano lessons at age six and began serving as cantor at her local church during fifth grade. By the time she reached high school, Ashley was singing in solo-ensemble competitions.
Now that her studies at Saint Mary's are coming to a close, Ashley is planning the next step in her career.
"I'm applying to graduate schools right now. I want to get a master's degree in vocal performance," she says. "I feel Saint Mary's has taught so much about music and academics in general. I'm ready to see what the future holds for me—hopefully, singing will always be a major part of my life."