Strengthen your faith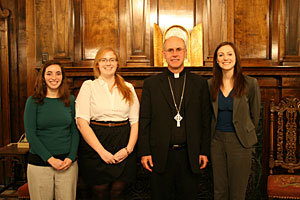 During a visit on January 26, Bishop Kevin C. Rhoades
met with religious studies students, from left, Rebecca
Marie Jones, Francesca Gifford, and Stephanie Cherpak.Ever since she came to Saint Mary's College, senior Stephanie Cherpak has been inspired by one person of faith after another. These encounters have strengthened her faith and guided her life's path.
For example, she chose her religious studies major while studying abroad in Rome sophomore year. "The religion professor in Rome and the seminarians who worked with the program had a major influence on this decision," she said. "I decided I wanted to be able to explain and support my faith beliefs in the same way that they could." Stephanie is also majoring in communication studies.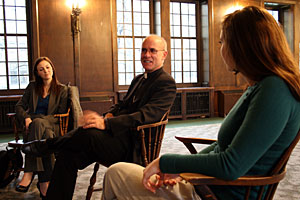 Stephanie, left, listens to the bishop in Stapleton
Lounge.She returned to campus to dive into her studies and pursue a lay ecclesial ministry certificate through Campus Ministry. Both programs helped her build relationships with professors and faculty members dedicated to her educational and spiritual growth.

And beyond that, Stephanie recently had the opportunity for a private reception with Bishop Kevin C. Rhoades of the Diocese of Fort Wayne-South Bend, Indiana.
Along with two other religious studies majors—senior Rebecca Marie Jones and junior Francesca Gifford—Stephanie was chosen to meet Rhoades, who was on campus January 26 to deliver the lecture for the 15th Annual Symposium on St. Thomas Aquinas.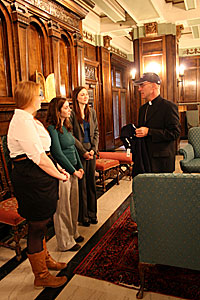 The students present Bishop Rhoades
with a Saint Mary's golf shirt and hat,
his first Saint Mary's apparel. He said
he'd wear the hat on the tennis court."Bishop Rhoades was very friendly and easy to talk to," Stephanie said. "He was eager to learn more about the religious studies and campus ministry programs at Saint Mary's. We were able to discuss our personal interests in theology with him as well as our future goals within and outside of the field. I'm so grateful to have had the opportunity."
Religious studies Professor Joseph Incandela, the Joyce McMahon Hank Aquinas Chair in Catholic Theology, said he was delighted the students were able to meet with Bishop Rhoades.
"He commented several times over the course of the evening how impressed he was with each of them," Incandela said. "As a Catholic college, Saint Mary's carries out its mission in communion with our bishop. For that reason, it's very important that Bishop Rhoades knows Saint Mary's, and that the members of our community know him. That he accepted an invitation to deliver a lecture on St. Thomas Aquinas indicates the importance he places on the education our students receive and on the role that faith and reason play in the context of a Catholic college."
During his lecture that night, Rhoades spoke about the relationship between theology and academics: "St. Thomas, both the philosopher and a theologian, remains our great teacher in the pursuit of truth on the wings of faith and reason," he said.

The bishop visited with the students before his lecture
for the 15th Annual Symposium on St. Thomas
Aquinas.Stephanie plans this same pursuit when she graduates. She's considering furthering her education in theology, specifically studying ways the Catholic Church can use media for evangelization and how existing media influence the public's perception of the Church. She also is interested in working in communications for a diocese or parish office. Either way, she will put her religious studies and communication studies majors to good use.
"No matter what, I hope that I am led to a career in which I can utilize my personal gifts and talents to serve God," she said. "Saint Mary's College has been very significant in the formation of my personal spirituality, and I couldn't have chosen a better college to grow in my faith."