Make a difference: Cailin Crowe
When Cailin Crowe became aware of the horrors of human trafficking in a justice education class, she was outraged and determined to make a difference. "I learned that Ohio has the highest rate of trafficking in the United States," she says. "I had no idea it was happening that close to home. That statistic shocked and inspired me to act."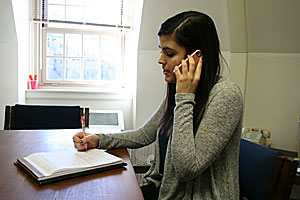 Junior Cailin Crowe has made hundreds of phone calls
in efforts to stop human trafficking during the Super Bowl.By definition, human trafficking is the illegal trade of humans for sexual exploitation or forced labor. In essence, it is modern-day slavery. The U.S. Department of State estimates between 14,500 and 18,000 people—many of them children—are trafficked into the country each year.
Cailin, a junior communication studies major, only had to go steps away to get involved—to the Sisters of the Holy Cross (CSC) convent adjacent to campus, part of a coalition of 11 religious orders of sisters in Indiana and Michigan that work to stop trafficking.
The coalition reaches out to hotel chains, one of the most common sites for human trafficking, and aims to help hotel employees to recognize and take action against human trafficking when they suspect it. The coalition also works with state and local officials against human trafficking—which increases during major sporting events like the Super Bowl, Olympics, and World Cup. With Super Bowl XLVI being held in Indianapolis on February 5, Cailin knew it was the perfect time to join the efforts.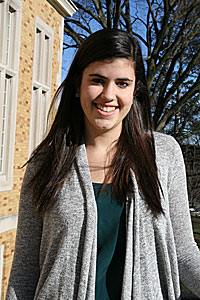 During her fall and winter break, Crowe joined sisters from the coalition to place hundreds of calls to hotels in the Indianapolis area, contacting managers and employees to ensure that hotel staff members were trained to recognize trafficking and had protocol in place to report and address trafficking suspicions.
"Placing phone calls to hotels in Indianapolis was a simple action that has the potential to make a much greater impact on such a complex problem," Cailin says.
In addition to her Super Bowl work, Cailin hopes to bring awareness to campus, too. She received a $500 grant from the college's Katharine Terry Dooley Endowment for Peace and Justice and plans to use the money to form an anti-human trafficking coalition group. "We will host either a speaker or training session that teaches people how to recognize the signs of a trafficked person and what to do if you suspect someone is being trafficked."
Cailin has also started the a movement on campus that highlights the importance of purchasing fair-trade chocolate products rather than those produced in factories that rely on child labor. "Human trafficking not only involves sexual exploitation, but child enslavement as well," she says.
Through her continued efforts, Cailin is taking small steps to make a big impact. "Our campus has started to address human trafficking, but I think we are obligated to do a lot more."
—Alexandra Davin '12 and Kaitlyn Flynn '12