A women's college? Absolutely. Campus life Q&A
Are you wondering if Saint Mary's is right for you? Will you enjoy an all-women's environment? Will you like living in the residence halls? Will you have fun when class is over?
Current students Galicia Guerrero, Kirsten Bonnesen, and Natalie Warner remember the long list of questions they had before enrolling at Saint Mary's, so they were eager to answer commonly asked questions.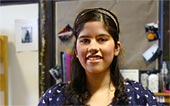 Galicia, Class of 2014, is from Jenison, Michigan, and is majoring in social work.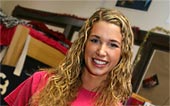 Kirsten, Class of 2014, is from Stirling, New Jersey, and is majoring in business administration.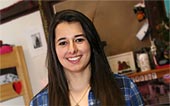 Natalie, Class of 2015, is from Salt Lake City, Utah, and intends to major in nursing.
A Women's College
What's it like going to school with women only?
Natalie: Going to school with only girls seemed weird at first. But with Notre Dame so close by, it's not like you'll never see a boy. It's nice that you can wake up and go to class and concentrate on the work without a lot of pressure to look a certain way. I see it as an advantage.
Kirsten: I think Saint Mary's is the best of both worlds. You feel comfortable speaking up in class. There isn't pressure to look a certain way every day. But it's nice to have Notre Dame across the street because you can still meet guys.
Galicia: It's very empowering to know you have the support of other women through all aspects of your life. I think the all-women element helps students gain more confidence.
Kirsten: You get used to an all-women's campus pretty quickly. I think the students here are really nice. They were very welcoming when I first came here.
How will I know if a women's college is right for me?
Galicia: When I was looking at colleges, picking a women's college was not my first priority. I chose Saint Mary's because of its academics. I didn't learn the benefits of a women's college until later.
Kirsten: It was the same for me. Being in a women-only atmosphere really helped build my confidence. I think you realize the benefits once you're a student.
Galicia: One thing I like is that there are a lot of opportunities for student leadership on campus. As a woman, I don't think I would have had as many opportunities on another campus.
Every time I mention I want to go to a women's college, my friends assume I'm going to a convent or some sort of feminist camp. What's the truth?
Galicia: Saint Mary's isn't a convent or a feminist camp. But Saint Mary's is known for creating strong women leaders, and we're proud of that.
Kirsten: A lot of people who make those assumptions have never stepped foot on campus. You really have to visit to understand what Saint Mary's is like and how unique it is. I think Saint Mary's has a great balance of academics and prepares you for the world. The professors support you, not force you to think a certain way.
Galicia: People also assume only nuns teach us. The college hires professors with PhDs who truly know their fields inside and out. While a professor could also be a nun, all professors are hired because of their qualifications, not religious background.
Residence Halls
What are the residence halls like?
Kirsten: I lived in McCandless Hall my first year. It's a great all-freshman dorm. It was really helpful when I first came to school since I lived with a lot of my classmates and met people who were going through the same things I was. Now I live in Le Mans, which is great.
Galicia: All the dorms have their own character. Last year I lived in quad with three girls in Regina. I loved it! At first I was hesitant to live in a quad, but it was a great way to make friends right away. Plus, Regina quads are set up with three rooms—two bedrooms and a large living area. It was fun. People are always surprised by how big the rooms are!
Natalie: I live in McCandless right now. I get to meet people in my class. I really like that students have separate study carrels. You have your room, and then a separate place to study. It's nice when your roommate wants to go to bed but you want to stay up; you have somewhere to go where you can finish your work without bothering your roommate.
Galicia: This year I live in a single in Le Mans, which is great. Each room is different, so it's fun to look at other girls' rooms.
Life in our residence halls
I've never shared a room with anyone before. Will I like my roommate? What if I don't?
Kirsten: Always keep an open mind. If there's a problem, the RAs (resident advisors) are there to help you.
Galicia: You also write a roommate contract with your roommates at the beginning of the year. You get to sit down and talk with them and discuss what your needs are and what you expect from them. You can rewrite the contract later on if you need to.
Kirsten: There are a couple times a year when you can switch roommates or rooms if things aren't working out.
Galicia: The most important thing to remember is that you're never alone. I'm an RA this year, and we want you to come to us when you have a problem or just need someone to listen.
I don't know any other students at Saint Mary's. Is that bad?
Kirsten: I didn't know anyone when I first came. It's definitely scary at first, but you just have to put yourself out there. There are so many ways to get involved in school and meet people. The students here are friendly and made me feel comfortable right away.
Galicia: Welcome Week was really helpful. First-year students move in earlier than returning students, so basically everyone you meet is in your class. There are a bunch of activities that help you get to know the campus and meet other students. And it's before classes start, so you don't have any homework yet—you get to focus on settling in.
Kirsten: Pretty much everyone is in the same boat.
Galicia: Some older students move in during Welcome Week to be peer mentors. They're very friendly and helpful. You can ask them about clubs to join, classes to take, and anything else you're curious about.
Saint Mary's is not close to home. Will I get homesick?
Kirsten: A lot of students feel homesick at some time or another. That goes for any school. It's definitely normal.
Natalie: I'm from Utah. I felt homesick the first couple of months. It wasn't every day, though. It's easy to get distracted by homework and friends.
Galicia: The students are really welcoming. You'll have friends to lean on if you feel homesick. There are girls who live locally or nearby who will invite you to their homes.
Natalie: It gets a lot better after the first semester. After Christmas break, I was excited to come back to school and see everyone.
Galicia: A big aspect of Saint Mary's is community. Your needs will be taken care of. The people you live with, your roommates and neighbors, are going to care about you. Professors, too.
Social Life
Will I ever meet guys? Are guys even allowed on campus?
Kirsten: Guys are allowed on campus. We have parietals, which means that guys have to be out of the dorm rooms by a certain time. Guys can visit residence halls from 10 a.m. to midnight on weekdays and 10 a.m. to 2 a.m. on weekends. Each dorm has lounges where guys are allowed 24/7. Notre Dame has the same parietals. I think the hours are reasonable, and it can be nice to have a break from guys and have a girls' night.
Galicia: There are no problems meeting boys. We can go to football games and sit in the student section with Notre Dame students. There are a lot of games and other events at Notre Dame that Saint Mary's students go to.
Natalie: Meeting guys can be a trial and error process, but that's the same for any college, including coed colleges. You meet so many people at once.
Kirsten: You can also join clubs at Notre Dame. A lot of students go to Notre Dame to study, too.
I don't have a car. Will this be a problem?
Kirsten: I don't have a car on campus, and it's never been a problem for me. When I want to go to Notre Dame I ride the free trolley that goes between the campuses.
Galicia: You will make friends with people who have cars. Certain majors provide car services for students who need to go off campus for some of their coursework. There is pretty much always a way to take care of your needs.
A lot of my friends go to big state schools. Will I have as much fun at a smaller school?
Galicia: Going to a smaller school was a better choice for me. At a big school it's so easy to get lost in a crowd. At a smaller school, you matter.
Kirsten: It's just as much fun as a big school. You do the same things, just on a smaller scale. And Saint Mary's is such a close community. You will always know people in your classes and even just walking around campus. It's great to run into your friends.
What is there to do on the weekends?
Galicia: Girls' nights!
Kirsten: I like Sundaes on Sundays. You get to watch movies in your PJs and eat free ice cream. It's usually held in the Vander Vennet Theatre at the Student Center.
Galicia: Campus activities are centered around things girls like to do. Students plan a lot of the activities, so they know what students like. Clubs host dances and movies nights. Larger events like Dance Marathon (an all-night fundraiser) and Midnight Madness are a lot of fun, too.
Natalie: It depends on your mood. You can stay in and watch movies or play Wii. You can go out with your friends and hang out. You can go to LaFortune Student Center at Notre Dame, which has places like Starbucks and Subway. It's not hard to find things to do.
Kirsten: There's always something going on. You can go to Legends, a nightclub at Notre Dame that is free on Thursday, Friday, and Saturday nights. Only students are allowed, so you know you're meeting other students. If you like sports, there are pep rallies, football games, basketball games, and hockey games.
Galicia: There are things to do in South Bend. There's a bus that picks up at Saint Mary's and goes to the mall. You can go out to eat or to the movies.
Kirsten: Chicago is close. You can take the train and spend the day there. Saint Mary's also runs free bus trips to Chicago a few times a year.
Classes and Academics
What classes should I take?
Natalie: All students start taking gen eds (general education classes) first. There is such a variety of classes to help you decide what you like and don't like.
Kirsten: Everyone should take a variety of classes, at least one of them in an area of interest. I changed my major from nursing to business because I took a business class I was interested in and ended up liking it.
Galicia: Gen eds can open up ideas for minors, too.
Kirsten: Meet Me at the Avenue helped me pick classes for my first semester. It's an event for accepted students that is held before the reply deadline, so you can get all of your questions answered before officially committing to Saint Mary's. I knew by then I wanted to come to Saint Mary's, so I talked to an advisor and he helped me decide what classes to take.
Natalie: I stayed with a couple of students when I was in high school. I got to go to their classes. I was able to talk to them and get advice once I decided to come to school.
I've heard students have to pass a writing requirement called the "W." My writing skills aren't strong. Will this be a problem?
Galicia: Don't be intimidated. There are helpful resources that make it less daunting.
Natalie: There are so many resources to help with writing skills. There is the Writing Center, where you can go for help on papers in any class. The professors are also willing to help.
Kirsten: Writing is such an important skill for all fields. I think the "W" program improves your writing skills and helps prepare you for future jobs.
What is the workload like at Saint Mary's?
Galicia: I think it's a good balance of challenge and reward. It can seem overwhelming, but it feels rewarding to succeed at something you once thought was challenging.
Natalie: The small class sizes help. The professors know who you are and know your work. I went to a professor for help on an essay, and she remembered my essay and knew what parts I could improve.
Kirsten: It's definitely challenging. The professors are understanding. I've always been able to go to them for help.
I don't know what I want to major in. When should I know?
Natalie: Saint Mary's has you take such a wide variety of classes. The classes give you a chance to see what you like. You don't need to know right away.
Kirsten: I think it's good not to know right away. Most people don't know. The Career Crossings office offers tests and counseling to help you find your interests.
Faith and volunteering
How important is faith on campus?
Galicia: Saint Mary's treats us as adults. Mass is not mandatory. But for me faith is a very important aspect of Saint Mary's. It was a large part of my decision to attend. If faith is important to you, you will find what you are looking for at Saint Mary's. The faith community is very welcoming, and there are many opportunities to be involved with Campus Ministry through working as a liturgical minister or attending Mass, Bible studies, rosary, and retreats.
Natalie: You can participate in religious activities as much or as little as you want.
Kirsten: I think we have a supportive community at Saint Mary's. There is support for everyone.
Galicia: There's an uplifting, spiritual atmosphere here. No matter your religion, if you're on a spiritual journey, Saint Mary's and Campus Ministry make sure you are welcome and a part of the community.
Will I have to take religion classes?
Natalie: Students are required to take two religious studies classes. They don't require a religious background or previous knowledge or anything like that.
Kirsten: The classes teach about world religions, not just Catholicism. The classes I've taken were interesting.
Natalie: There are different options on what classes to take. You will never be pushed into a religion.
Do students do a lot of volunteer work?
Galicia: Eighty percent of students here volunteer, and service work is a big part of Saint Mary's. It's not a requirement, but it's encouraged and it's something most students look forward to doing. There are a few classes that require some volunteer work, but that's it. Otherwise, it's up to the student. There are a lot of opportunities to work with youth in the community. For instance, I tutor third and fourth graders in a local elementary school and volunteer as a tutor at a local youth center.
Kirsten: There are endless opportunities for volunteer work, especially over breaks. A popular one is Habitat for Humanity. Clubs also do tutoring projects together. I was on the Irish dance team, and we volunteered at a soup kitchen as a group.
Natalie: There's something for everyone. There are so many different ways you can volunteer, even if you don't have a lot of time. I've worked with Hannah and Friends, which was started by Charlie Weis, the former Notre Dame football coach.
Galicia: Volunteer work is another opportunity to learn. It really opens you to diversity and new experiences.
Sealing the Deal
How will I know if Saint Mary's is the right place for me?
Kirsten: I visited Saint Mary's when my cousin graduated from Notre Dame. Then I came back my junior year in high school and stayed with some students on campus. That second visit made me sure Saint Mary's was the right place for me.
Natalie: My high school advisor recommended Saint Mary's. I looked at the website and decided to visit. Everyone was so nice and treated me like I was already a student. They made me feel as if I belonged here before I even applied.
Galicia: I know an alumna and she recommended that I consider Saint Mary's. It's really good to talk to an alumna or current student. I knew that Saint Mary's offered the degrees I was interested in. After my first visit, I knew I wanted to come here. A lot of girls know this is the right place for them as soon as they drive down The Avenue, the main road to campus.
Kirsten: My acceptance letter was personalized, which made me feel as if the school wanted me to come here, not just the other way around. I could tell they really looked at my application and considered more than just my GPA and SAT scores.
Is Saint Mary's helpful in sorting out financial aid?
Kirsten: They're definitely helpful. They helped me through the process and made sure I understood everything.
Natalie: Saint Mary's offers a lot of scholarships. I receive two scholarships, and they help a lot with costs. Almost all my friends have some sort of scholarship. I think that's unique to our school.
Galicia: I receive financial aid and I am very, very grateful for my package. I would not be able to attend Saint Mary's without it. The day I got my financial aid letter I was very excited because I knew that Saint Mary's would be a true possibility. I have a Merit Scholarship, Holy Cross Grant, Saint Mary's Grant, Sisters of the Holy Cross Memorial Scholarship, and RA remission. There are work-study jobs, too, that help with tuition.
What's the best part of Saint Mary's?
Natalie: I love how it's a small school in a big school environment. With Notre Dame across the street, you get the benefits of both a small and large school.
Galicia: Saint Mary's prepares you for the real world. All of the alumnae I know have such a sense of confidence after they graduate.
Kirsten: I like the small class sizes. You really get to know your classmates. I think Saint Mary's has changed me and helped me grow. I've made so many close friends that I know will be my friends for life. Saint Mary's is like my second home.