Discover who you're meant to be: Cat Cleary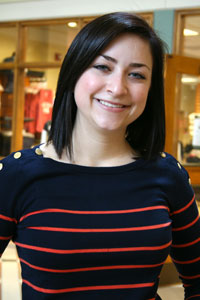 Prisons, shelters for abused women, struggling elementary classrooms. In these places and through her tireless activism, senior Cat Cleary seeks answers to societal questions that she refuses to ignore.
"Saint Mary's has helped fulfill my spiritual and academic needs, challenging my commitment to serving others and, most important, providing me opportunities to explore my passions."
"For me, these questions have to do with power dynamics, equality, social class, social norms, and gender," she says. "In response to them, we often say we're too busy, or they're not our problem."
Not Cat. A spring break program her first year lit a fire in her heart. She and four other Saint Mary's students visited Indianapolis to learn about women's issues in urban environments. They heard speakers on sexual assault, human trafficking, and teen homelessness. They visited shelters for abused women, the Indiana Women's Prison, and Girls Inc., which empowers young girls.
Inspired, Cat declared a student-designed major in the Women's Studies Program, focusing on public policy, law, power, and privilege. She made sure her education led her outside the classroom for deeper understanding of the issues women face.
And Cat started volunteering, lots and lots of volunteering. She worked as an elementary school tutor and then created a workshop to spark young girls' interest in science. She organized a women's hygiene product drive for the Indiana Women's Prison. She counseled mentally ill and chemically dependent offenders as a social work intern at the prison. These days, she's teaching GED classes to ex-offenders.
Cat's many honors include the American Association of University Women selecting her to sit on its student advisory council; the College's Office for Civic and Social Engagement recognizing her service to women; and the College Board of Trustees choosing her as student representative, one of the highest honors on campus. Among her on-campus activities, Cat is a Eucharistic minister, a member of the Belles Against Violence Office, and a member of the Straight and Gay Alliance.
"Each day I find myself interested in a new career, but they all revolve around my desire to advocate for women," says Cat, who is in the process of choosing a graduate school and a course of study. Eventually, she'd like to study law. "Saint Mary's has helped fulfill my spiritual and academic needs, challenging my commitment to serving others and, most important, providing me opportunities to explore my passions."