The world is your classroom: Fulbrighter Rachael Chesley '11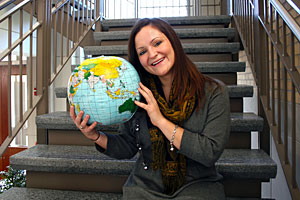 Alumna Rachael Chesley of New Lenox, Illinois, is teaching
in Malaysia on a Fulbright U.S. Student scholarship.
[Zara Osterman photo] Maybe Rachael Chesley '11 was destined for a Fulbright scholarship. After all, she lived la dolce vita (the sweet life) in Rome for overseas study during her sophomore year. Blazed a trail as the first Saint Mary's exchange student in Seoul, South Korea, during her junior year. Returned to campus to create a mentoring program for international students. Honed leadership skills as student body president after winning as the outside candidate. Gained professional skills at internships with a risk management firm and political offices.
Read Rachael's column for the Southtown Star newspaper and see photos here.
Fulbright is considered the most prestigious worldwide scholarship program, and Rachael, who earned a degree in business administration with a concentration in international marketing, says it was a dream come true to be chosen. After going through the Fulbright Southeast Asia Orientation for several weeks in summer 2011 Washington, D.C., Rachael departed in January to start a one-year stint teaching English in Besut, Terengganu, a rural town in Malaysia. "I am the first Westerner some of them have ever seen in person," she says. "I know Fulbright is the experience of a lifetime in allowing me to further develop my intercultural and international interests that were enhanced at Saint Mary's."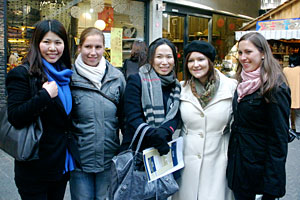 Rachael, second from right, was the first Saint Mary's
student to study abroad at Ewha University
in Seoul, South Korea. Rachael joins four other Saint Mary's College alumnae Fulbrighters: Tamara Demianczuk Fedoryshyn '07, Nina Helmen Cooper '05 and Katherine Denzel '98. In 2010, Steven Broad, assistant professor of mathematics, participated in the Fulbright Scholar Program in Brazil.
Studying abroad and intercultural education is crucial, Rachael says: "The world is becoming more diverse and the future depends global leaders who embrace diversity and intercultural settings."
As a Fulbrighter, Rachael is undoubtedly on her way to becoming one of them.
Published June 27, 2012