Educating heart, mind, and soul: Christine Hendershot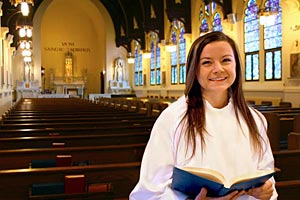 Senior Christine Hendershot's ability to sing is not only a gift; it's also her ministry. "I began serving as cantor at Mass during my sophomore year," she says. "It made me begin to think of liturgical music as more than just something I loved to do—it became my ministry."
"At Saint Mary's, my education and my faith are interconnected."
Her musical ministry is one expression of her calling to serve. Her nursing major is another. "One of the most special things about this college is that it is a place where students grow both academically and spiritually. At Saint Mary's, my education and my faith are interconnected," Christine says. "Nursing is more than a career choice—it is a vocation, a way for me to use my God-given gifts to help others."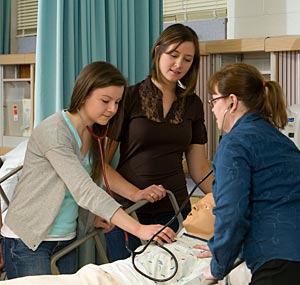 Just as she does with her musical endeavors, Christine puts everything she's got into her studies. She carries a 3.73 grade point average, and her scholarly success has earned her two prestigious scholarships. "I love the nursing program. It's intense, but the professors are committed to helping us succeed," she says. "They are exceptional nurses and professors."
Under their guidance, Christine is turning into an excellent nurse. As part of an externship last summer, she cared for patients at Metro Health in her hometown of Grand Rapids, Michigan. "I took on the responsibilities of a nurse, caring for a full team of patients under the guidance of my preceptor," she says. "I surprised myself with the knowledge I had gained in just a year of clinical and with how comfortable I felt." Her performance with the externship was impressive enough for Metro Health to offer Christine a nursing position with its Center for Restorative Care in Wyoming, Michigan, where she'll start after she graduates.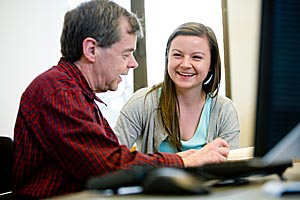 In addition to tackling the demanding nursing program, Christine participates in Women's Choir and the Madrigal Singers, which she recently spoke about for the local news. She is the choral librarian for the college choirs, serves as a peer mentor for first-year nursing students, and served as a mentor for Spiritual Leaders Camp at Saint Mary's.
But her biggest love remains Campus Ministry, which she joined her first year. As a pastoral music leader, she serves as cantor for weekly liturgies, assists in liturgy preparation, and sings in the liturgical choir. Judith Fean, director of Campus Ministry, has witnessed Christine's commitment to ministry grow through her years at Saint Mary's. "Christine is an intelligent, compassionate woman of faith," Fean says. "Her passion for life is graciously conveyed through her love of music and the joy she brings to others while performing with the Women's Choir or leading the assembly during the Eucharistic liturgies on campus."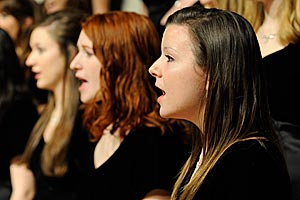 In her heart, mind, and soul, Christine is certain she was meant to attend Saint Mary's. "I was drawn to the spiritual life here, the exceptional nursing program, the beautiful campus, and the small size," she says. "In my admission essay I wrote about trust—trusting myself and God's plan for me. I believe that God's plan for me included Saint Mary's."