Christmas Wishes from Saint Mary's College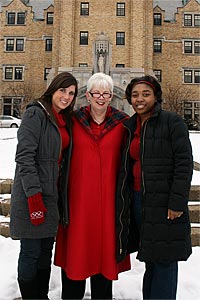 President Mooney with seniors Jacquitta
Martin, right, and Hannah Hupp.

Christmas is in the air at Saint Mary's College. Our annual "12 days of Christmas" project showed once again the generous nature of the people at our College. Students, faculty, and staff participated in service projects, fundraisers, and other special events to raise money for needy families in our area. Working together builds a strong sense of community and provided a nice break from the stress of finals.
Other Christmas traditions at Saint Mary's include our Madrigal Dinners, Lessons and Carols in the Church of our Lady of Loretto, and even a visit from the Notre Dame Glee Club. The end of the semester brings a well deserved break for our students and faculty. The pressure of final exams vanishes, replaced by the joy of the holidays and a much needed winter break.
I hope that this holiday season will be filled with many blessings for each of you and that you enter the New Year filled with confidence in a bright future.
President Carol Ann Mooney '72