Small campus, big opportunities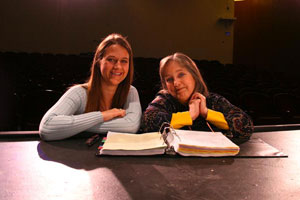 Grant funding allowed senior Emily Schmitt to write
her award-winning play, "San Luis 1989," under
the guidance of writing instructor Susan Baxter. Ever since she was a girl, Emily Schmitt dreamed of being a playwright and captivating audiences with characters and story lines.
"This play is about justice and human rights right here in the United States."
But the award-winning play she wrote last summer delivers more than entertainment. San Luis 1989—up for two national honors—illuminates real-life events surrounding the unjust arrests of 110 people in San Luis, Colorado.
The play depicts the life of Clyde Montoya, a struggling farmer, and his encounter with John Morgan, who offers Montoya the chance to make money selling illegal antlers, meat, and feathers. Morgan, an undercover federal agent, eventually authorizes arrests for illegal trapping and poaching against Montoya and others. The incident brought countercharges of entrapment, racial bias, and use of excessive force.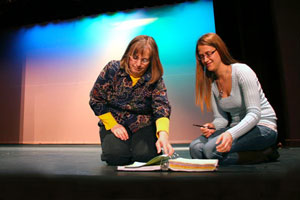 After graduating from Saint Mary's, Emily plans
to attend graduate school and eventually become a
professional playwright."This play is about justice and human rights right here in the United States, and I wanted to use it as a platform to inform people about what happened," says Emily, a senior theatre major from Cincinnati.
She's well on her way. In December, Schmitt was chosen over 30 graduate and undergraduate students to win the Kennedy Center American College Theatre Festival Region 3 full-length playwriting competition. In the spring, it will be considered for the Michael Kanin National Student Playwriting Award. San Luis also will compete for the prestigious National Partners of the American Theatre Playwriting Award.
Emily and Susan Baxter, who teaches journalism and playwriting, were awarded the college's Student Independent Study and Research (SISTAR) grant, which allowed them to work together on complementary projects: Emily's play and a book Baxter is writing about the convergence of journalism and theatre.
Baxter, a reporter in Colorado in the 1980s, gave Emily the idea for San Luis. "This story really ignited Emily's sense of social justice," says Baxter, noting Emily was able to delve into the story because she speaks Spanish, the language of the accused.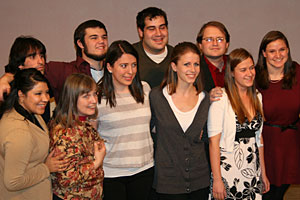 Emily, second from front right, stands with some of the
actors who read her play in January at the Kennedy Center
American College Theatre Region 3 Festival at the
University of Illinois at Urbana-Champaign. Baxter is
second from front left. The grant included a trip to Colorado where Emily pored over court transcripts and interviewed those involved. "Emily gives a voice to the frustration of the people of the town," said Baxter. "The play covers years and many locations and characters. She allowed herself to write an epic."
Emily says writing was challenging. "I would write a draft and then I would send it to Susan for feedback. She gave me her reactions and I would then do a rewrite. Writing a play is a very solitary process. Most of the summer I spent at my computer working alone."
The two met when Emily was in middle school and attended Fine Arts Camp at Saint Mary's, where Baxter taught playwriting. "It was obvious even then that Emily was a prodigiously gifted writer," Baxter recalls.
Emily later visited the college in search of the camp teacher who inspired her. "Susan has been an amazing mentor to me from day one," Emily remembers. "She always believed in my abilities."