Learn from outstanding scholars and committed mentors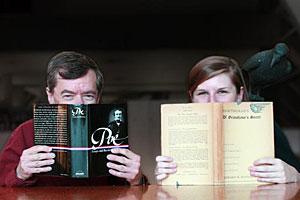 English professor Ted Billy chose senior Emma Brink
as his apprentice writer for his upcoming book.
[Zara Osterman photos]When English professor Theodore Billy needed an apprentice writer for his upcoming book, he immediately thought of Emma Brink, who was then a junior, whom he had taught in many classes.
"Saint Mary's inspires its students to build on their existing talents and capabilities and make them truly shine." — Emma Brink
"Emma definitely had the editorial skills to go along with her writing talent and her critical insights into literature, so I knew she would be an ideal apprentice writer," he says. Read Professor Billy's profile.
Emma, a 2012 grad who majored in English literature, was more than up to the task. She'd worked as a tutor in the college's Writing Center, helping students build their writing skills. She coedited The Avenue, a journal of non-fiction prose that Billy oversees. A summer internship gave her online editing and publishing experience. And her role as executive secretary for the Student Government Association sharpened her organizational skills.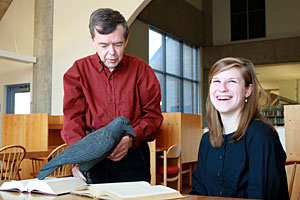 Emma enjoyed the unique sense of humor that
Billy brings to all of his classes.As Billy's apprentice, she helped research author Nathaniel Hawthorne for part of Billy's book, The Haunted House of the Mind: Nineteenth Century American Gothic Literature.
"My job was to find evidence and support within Hawthorne's texts, unfinished works, and journals," says Emma. "I had weekly meetings with Professor Billy to go over the research I had discovered. Professor Billy not only guided me throughout the apprenticeship but also helped me discover a newfound respect and admiration for Hawthorne.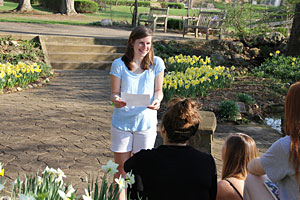 Emma reads her poem "The Attic" to a group of
students in the college's beautiful sunken garden."I couldn't have asked for a better mentor than Professor Billy. He has such a positive attitude and is always encouraging and supportive of his students' writing."
Billy has nothing but praise for his apprentice. "Emma's keen insights were always on target, and it was refreshing to have a such a gifted research partner to share our ideas and impressions."
Collegiate experiences such as the apprenticeship have helped shape Emma's career goals. She hopes to one day use her talents in the publishing industry. "I always knew I loved reading, but my job has helped me discover my talent of helping others find their voices and use them in their writing, both academically and creatively.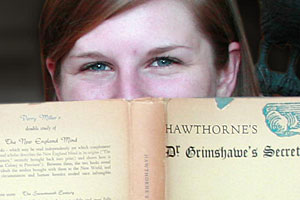 Emma made the most of her academic career.
She maintained a 3.8 gpa and made the Dean's List
for six semesters."I believe I would not have been inspired to become so active in my school's community at a different institution," she muses. "Saint Mary's inspires its students to build on their existing talents and capabilities and make them truly shine."