Educating heart, mind, and soul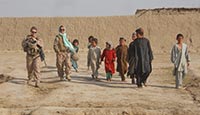 Zeba, in scarf, walks with local children
while on patrol in the Helmand province.
Unfortunately, due to the dangers of her
outreach work in this war zone, armed
military personnel accompany Zeba at
all times.
The power of a Saint Mary's education is not confined to the four-year experience of earning a degree from Saint Mary's. Rather, the power of a Saint Mary's education is infinite thanks to our alumnae who go on to create change, improve lives, and empower women, a butterfly effect on local and global scales.
Faith in action
Zeba Hakeem '10 is an example of just such an alumna. Born and raised in Afghanistan, Zeba came to the U.S. at age sixteen. She graduated from Saint Mary's with a BS in nursing, and embedded with infantry units of the United States Marine Corps in Afghanistan as a category II linguist and part of the Female Engagement Team (FET). Because these areas are war zones, the reality is that Zeba is participating in this humanitarian endeavor at great personal risk. She must be accompanied at all times by armed personnel and may not leave the base without an escort.
In these regions, the code of conduct for women forbids contact with men, so FETs are created to establish social contact with local women, act as liaisons between Afghan women and the military, and to assess schools and education. "FET had the goal of empowering Afghan women and encouraging them to seek education for themselves and help them realize the importance of education for their children," says Zeba. The FET also delivers basic health care to women who will not accept help from male corpsmen.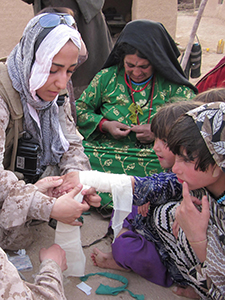 Zeba fashions a sling out of a piece of wood.
Limited medical equipment is one of the harsh
realities for FET members who tend to the sick
and injured.
The world needs more Saint Mary's women
Zeba was one of the few women in the Helmand province with medical training. "Most of the women we talked to had never seen a doctor and were in desperate need of medical attention. Some were critically ill. The lack of female doctors in the area was the cause," says Zeba. In an area that lacks educational opportunities for women to become doctors, Zeba, her education, and her experience are invaluable. Zeba currently works in the ICU unit at Community Hospital North in Indianapolis.
Zeba's mission to empower the women of Afghanistan echoes the mission of the Sisters of the Holy Cross, founders of Saint Mary's College, to enable women to develop their talents and make a difference in the world. She realized how much women have achieved in America and how far women have to go in Afghanistan when speaking with local Afghan women. "I told them that there are women out there who are nurses, who are principals, who are teachers, who are educators…it astonished them. It was a bigger emotional change than I've ever seen in anyone," says Zeba.
Zeba is just one of thousands of alumnae who carry the power of a Saint Mary's education into the future to facilitate change. But, if the world is to have more Saint Mary's women, the impetus must come from Saint Mary's women.
Faith Always, Action Now
On February 22, Zeba and other amazing students and alumnae, watched her story come to life as the College celebrated the public launch of Faith Always, Action Now, The Campaign for Saint Mary's College. The goal of the Campaign is to raise $80 million to increase endowment for scholarships, professorships, and academic programs, and to renovate designated campus facilities. Zeba and the hundreds of other guests, faculty, staff, and students attending the reception and presentation applauded the news that the College is at 75 percent of its goal.
This campaign will help fund the education of the hearts, minds, and souls of current and future students, sculpting the women who will take the Saint Mary's mission into the world and into the future.
For more information on how the Campaign will change Saint Mary's College, or to donate, click here to visit the Campaign's webpage.