Be engaged, be guided, be heard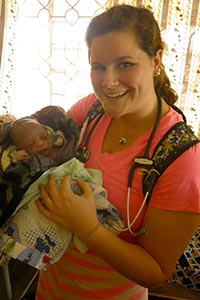 In Uganda in 2012, Genevieve helped
deliver her first baby. Here she is
posing with the newborn just minutes
after her birth. The mother allowed
Genevieve to name the baby Rose.
Genevieve Spittler '13 wanted three things in a college: a nursing program, to swim competitively, and to graduate in four years. At Saint Mary's College, 93 percent of our graduates earn a degree within four years, but we all hear about students who take five or six years to complete a bachelor's degree. Genevieve is the perfect example of a student who benefits from Saint Mary's four-year graduation promise. In just four short years, she achieved all her goals; she studied nursing and became a leader, a world traveler, and an agent of change.
So much to do, only four years to do it all
Genevieve swam on Saint Mary's varsity swim team all four years, swimming the 200-meter butterfly and becoming captain her senior year. She now serves on the Saint Mary's Student-Athlete Advisory Committee and as a representative for the Michigan Intercollegiate Athletic Association.
Genevieve's extracurricular activities are not just athletic. She traveled to China and Uganda. She's a peer mentor for the Uganda study abroad program and she created a study abroad manual for students. She's also a peer mentor for the nursing department, connecting with incoming nursing students during Welcome Weekend and providing advice and a friendly face throughout the year. "I feel a responsibility to them, as a role model and Saint Mary's citizen," says Genevieve.
In addition to her nursing major, she is also in the Intercultural Leadership Program through Saint Mary's Center for Women's Intercultural Leadership, which requires monthly and bi-monthly meetings, a minimum of 50 hours of community-based learning, and mentoring from a local community leader and an international leader for one year each. Through her travel experiences and her international studies, Genevieve realized that "We're all just people. We're all just humans. We all want the same things in life." The program equips students to become agents of change, to bring about equality and understanding.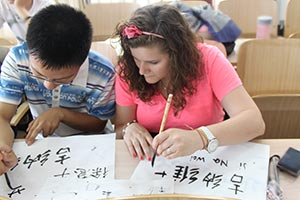 While in China, Genevieve's pen pal teaches her to
write her name in Mandarin.
A member of the Alumnae Engagement Committee and the Spirituality and Service Board, both subcommittees of the Alumnae Association Board of Directors, she is one of the voices for students. For Genevieve, it is an honor to sit alongside distinguished alumnae. "For them to ask my opinion about what's going on on campus is an even bigger honor," she says.
Above and beyond the Saint Mary's classroom
An education is more than just the courses you take or your GPA. In a place like Saint Mary's, you develop leadership skills, learn to speak your mind, and prepare yourself to move into the world after graduation. Genevieve credits Saint Mary's with shaping her into the woman she is today. "Looking back on my career here at Saint Mary's, I can't tell you when I found that voice, but I have it and I use it! I can bring new knowledge to the table and instigate change when needed. I speak up when things don't sit right with me and I try to inspire others to do the same," says Genevieve.
Genevieve leaves Saint Mary's a well-rounded, confident woman with a nursing degree, a certificate in cultural awareness, and experiences abroad, in the pool, and as a board member.
And she did all that in just four years.
Please visit www.saintmarys.edu/promise for more details about the promise and its conditions.