You're smart; become brilliant: Holly Dorson-King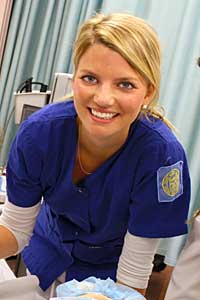 "What is your big dream?" As Holly Dorson-King answered that prompt for her admission essay for Saint Mary's, she realized her dream was actually a calling. Specifically, a calling to be a nurse. "Not only did I want to become a nurse, I wanted to do it in an environment of strong thinkers and people who are morally grounded," she says. She was called to Saint Mary's.
That was four years ago, when Holly, Class of 2012, could only imagine the challenges of the College's nursing program. "The nursing major here seems almost impossible to fit into four years," she says. "But the professors and advisors do everything they can to help you get through it."
"My dream in that essay was to be a great nurse and it still is."
After a rigorous first year, sophomores are immersed in nursing experiences at the convent of the Sisters of the Holy Cross adjacent to campus. Junior year brings clinical rotations in adult acute care, pediatrics, obstetrics, and chronic care on top of regular classes. Senior year rotations focus on psychology, community, advanced medical-surgical, and leadership.
Then there are summer internships. "Getting a nursing internship is very different from other majors," Holly says. "There aren't postings. You have to dig for information." Holly started networking in October of her junior year. By second semester, she was spending two hours a day filling out applications and communicating with representatives from five hospitals.
It paid off. She was invited for interviews with four of the five, including her top two choices: Georgetown University Hospital in Washington, D.C., and Memorial Sloan-Kettering Cancer Center in New York City. Both offered her internships on the spot. Holly chose Sloan-Kettering, one of the world's premier cancer centers.
"I worked 12-hour shifts on the head and neck oncology floor," she says. "Within the first week, I fell in love not only with the hospital, but the field of oncology."
In the opinion of one patient's grateful husband, she's fulfilled her dream. "She exhibited great knowledge of her duties and a seemingly inborn ability to help patients," he wrote to College President Carol Ann Mooney. "If Holly is a typical student at Saint Mary's, then you are doing something really great."
That's what Holly has been working toward since she filled out that admission essay. "It's still my dream," she says. "My dream in that essay was to be a great nurse and it still is."
Originally published October 8, 2011