Invest in yourself: Joy Viceroy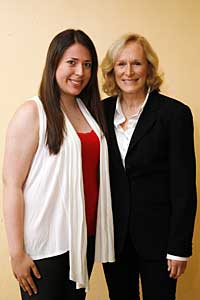 Joy had the opportunity to perform a
monologue for actress Glenn Close "
during a master acting class in 2010.
Drama on stage? Perfect.
Drama off stage? Definitely not what Joy Viceroy wanted in a college.
"I knew I wanted to pursue degrees in theater and music," she says. "I also knew I didn't like cut-throat competition. So I looked into schools that offered a well-rounded education and great opportunities to perform. I chose Saint Mary's and there has never been a day I regretted it."
"The [financial aid] counselors helped me find every penny I could to make Saint Mary's possible."
For Joy, attending Saint Mary's meant devoting a significant amount of time figuring out how to finance college and researching and applying for grants and scholarships. "I cannot stress how important it is to apply for as many local scholarships as possible," she says. "Every little bit helps!"
Saint Mary's admission counselors provided tremendous help. "The counselors were able to give me all of the answers regarding scholarships I was eligible for, and also about student loans and grants," Joy says. "I was able to speak freely about my situation, and the counselors helped me find every penny I could to make Saint Mary's possible."
In her first two years, Joy received four scholarships and a grant from Saint Mary's in addition to outside scholarships and grants. She took out two small loans this year, in large part to pay for her study abroad in France. Joy has worked jobs related to her majors, including roles as a teaching assistant in music theory and a music leader with Campus Ministry.
The benefits of attending Saint Mary's outweigh the challenges she's overcome to finance her education, she says. Just take a look at some of her experiences in her first two years:
Starring roles in two operas and an off-campus musical
Acting in four plays
Membership in three choirs
Opportunities to perform for Glenn Close and Sigourney Weaver in drama workshops
Musical trips to China and even Carnegie Hall
"A Saint Mary's education is without a doubt worth the investment," Joy says. "I know this because of my own growth, that of the women I see around me, and the successes of our graduates. Because I chose Saint Mary's, I chose an education that can be tailored exactly to my needs. I am not only learning the tools of my trade, but I am also growing as a person in every aspect of my life."