Be more than you ever thought possible: Kimberly Roland

Senior Kimberly Roland has led
efforts to bring sustainable food
to the college cafeteria.Growing up, senior Kimberly Roland loved food. On Saturday mornings, she watched cooking shows instead of cartoons. She grew garlic in her hometown of Phoenix, Arizona. She considered going to culinary school. Instead, she came to Saint Mary's and has channeled her love of food into serious food activism.
A political science and humanistic studies major, Kimberly has led several food politics initiatives on campus and regionally. "Food is something that connects and impacts all of us; food is truly universal," she says. "I am fascinated with food systems, the implications our diets have on the environment, food justice and hunger issues, food security and safety, and relating food to religion and culture."

Kimberly was interviewed by local television stations
about organizing Food Day in October. One of her most outstanding contributions was organizing Food Day on campus on October 25. A national push for healthy, affordable, sustainable food, Food Day started this year on college and university campuses.
And, thanks largely to Kimberly, Saint Mary's holds a historical place in the Food Day celebration. President Carol Ann Mooney '72 became the first college or university president to sign the Real Food Commitment, a pledge for higher education institutions to purchase at least 20 percent "real food" (local, fair, humane or organic) by 2020.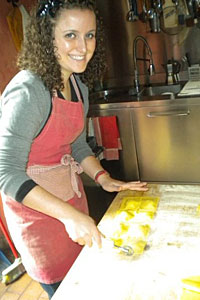 Kimberly makes ravioli during her
study abroad in Rome. She received
the Rome Program Award for her
outstanding participation. The ingredients for Food Day came together after Kimberly was hired as one of two regional field organizers for Real Food Challenge. She also helped launch the Saint Mary's Sustainable Food Committee. "It is amazing to see how many Belles are interested in food either because they are passionate about cooking, are vegetarian or vegan, have an allergy, are interested in sustainability, or just love to eat," she says.
Because of her Food Day efforts, Kimberly was invited to speak as a panelist on January 28 for the conference "Food Networks: Gender and Foodways" at the University of Notre Dame.
Her dream for the future is to continue to shape a career around her interests in food, politics, sustainability, justice, and travel. Kimberly is applying to graduate programs in food sustainability and is considering culinary school.
"Before I came to Saint Mary's, I never imagined that I would be able to reconcile my diverse interests in food and politics," she says. "But through my experience abroad, rigorous courses, and research, not only have I realized that it is possible for me to integrate my passions academically, but it is possible for me to turn these passions into a career where I can make a difference in the world."
Published January 27, 2012