Invest in yourself: Liz Palmer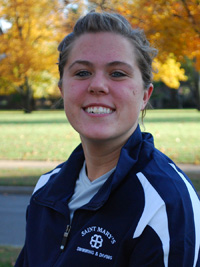 Liz Palmer of Grand Blanc, Michigan, is
a double major in biology and
psychology.Immersion. It not only describes junior Liz Palmer's love of swimming, but also her attitude of giving everything she's got to everything she does as an athlete, ambassador, academic, and acolyte.
"There is no better feeling than putting on my swim cap with the French cross on it."
First, there's varsity swimming. "It's my greatest passion," says Liz, a freestyle swimmer in distance events and relays. "There is no better feeling than putting on my swim cap with the French cross on it and diving into the water knowing I represent Saint Mary's. I cannot imagine my life without the Saint Mary's swim team."
Competing for a Division III school means intense training. And that brings out the best in Liz, who's known for her contagious energy and work ethic. "Training is the strongest form of discipline I've ever experienced," she says. "But the feeling of pride when our team reaches a goal is the reward. It's such an honor to be part of this team."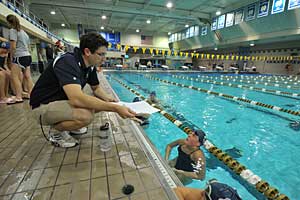 Liz consults with Coach Mark Benishek during a meet.
"Coach Benishek is one of my greatest role models and
constantly pushes me to be a better athlete and person,"
she says. She feels the same way about Saint Mary's. "It has been my dream to attend Saint Mary's ever since seventh grade. My English teacher was an alumna, and her passion for Saint Mary's convinced me.
"Then I toured campus as a high school junior. Walking around that first time was all it took. After I applied, I ran to the mailbox every day for two months. When I opened my acceptance letter, I was overwhelmed with happiness."
Financial aid was critical to Liz, and like 95 percent of Saint Mary's students, she receives assistance that makes it possible for her to attend Saint Mary's. "There is no way I would be here without the incredible support from the college and its alumnae. I have been blessed with the Dean's Scholarship, Eli & Helen Shaheen Scholarship, and Thomas J. and Mary Ann Kramer Campbell 1954 Endowed Scholarship. These scholarships have allowed me to attend Saint Mary's. I could never express my gratitude enough." Liz supplements her financial aid by holding campus jobs.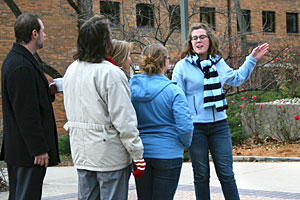 One of Liz's campus jobs is guiding college tours
as a student ambassador. Her devotion to Saint Mary's drives Liz, a double major in biology and psychology from Grand Blanc, Michigan, to seize opportunities that come her way. Not only are her grades stellar, she participates in activities including Student Athlete Advisory Committee, Lacrosse Club at the University of Notre Dame, College Academy of Tutoring, and peer ministry. She is a Mass coordinator and a student ambassador, and she's pursuing certificates in women's intercultural leadership and lay ministry.
"I can't believe the growth I've experienced," she says. "It's powerful to be in classrooms full of smart, motivated women. It's helped me develop confidence and leadership skills."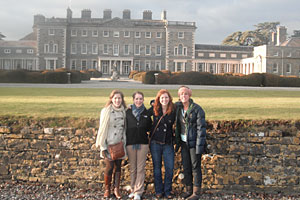 Liz, far right, stands outside the historic Carton House
in Maynooth, Ireland, where she studied abroad. The
other Saint Mary's juniors are, from left, Katie James,
Erin Coen, and Sarah Huser. And there are her professors: "You know you are at an amazing college when every professor you've had has impacted your life," she says. "Even with my busy schedule, there has never been a time where I thought 'I can't do this.' That's because of the great support system of professors, students, friends, and faculty."
No doubt, Liz will be ready to dive wholeheartedly into her future. "After graduation I hope to attend medical school or graduate school," she says. "Whatever I do, Saint Mary's will be part of me forever."