Small campus, big opportunities: Madrigal Dinners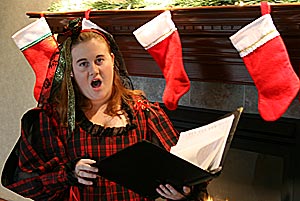 Ariel Terpstra Senior soprano Ariel Terpstra wouldn't miss participating in the Saint Mary's College Madrigal Dinners each year. "I like knowing that my singing adds a little something special to people's Christmas season," says the history major from Hilo, Hawaii.
One of the College's most popular traditions, the Renaissance-style holiday feast is celebrating its 39th year. Guests enter a residence hall transformed into a medieval castle. They enjoy colorfully attired singers, instrumentalists, jugglers, a jester, and famously fabulous food.
And for students like Ariel, the dinners are a great opportunity to perform. Shortly before this year's dinners, December 3–5, Ariel talked about the food, the fun, and what's become a tradition of getting her gown stepped on every year. Click for tickets and information.
What made you decide to join the Madrigal Singers?
I thought it sounded like a lot of fun. I love to sing, and it was a chance for me to do even more singing. And we get to dress up and sing in a different style than we normally do. I've been a singer at the dinners for the last three years. I wanted to sing my first year, but Dr. (Nancy) Menk had enough sopranos, so I served dinners. That was also great fun.
What's fun about it?
We get to dress up in period clothing, and it's fun to watch Regina North change from a plain residence hall to a medieval castle hall.
The music itself is fun because it's so different. We sing some familiar carols and then we sing different ones. For example, this year we are singing "Castitatis Thalamum" or "Marriage Bed of Chastity." It was written in the 1300s and is in Latin.
Oops! It seems that you do not have the most current version of the Adobe Flash Player.
Please click here
to download it.
Could you give an idea of the work that goes into being a madrigal singer?
Work? I wouldn't exactly call it work. It's fun. We started rehearsals October 12 this year. We meet Monday and Wednesday each week from 6:30 to 8 p.m. The week before the show, we start dress rehearsal and meet a little more often.
We learn all the music by sight-reading, breaking it down into parts. After about two weeks of sitting and learning the music, we start to practice moving around while singing. This is a little harder because you have to remember where your caroling clump is supposed to be at any given point.
And you have to be careful when the whole group is wandering to try to separate the parts, which means we have to try to mix the sopranos and the altos so that they aren't all together. We don't want one side of the room to hear only altos and one side only sopranos.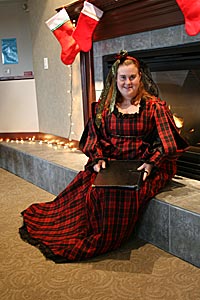 What's it like wearing those beautiful gowns?
The gowns, I love them! It's so much fun pretending to be someone from another time.
It can be a little difficult getting used to wearing a train, though. Every year I remind the people who walk behind me to be careful, and every year I get stepped on at least once.
Do you get to eat the food? If so, how is it?
As singers, we really don't get to eat a whole meal. We do get the cheesecake, which is AMAZING. We also get the wassail, which is so good, and bread and sometimes the salad, which is also good. I do know from serving that the stuffed shells are great, as are the potatoes. The beef and the Cornish hens smell good, too.